Justin Bieber
supported Canada at the opening ceremony of the 2015
Special Olympics World Games
on Saturday, cheering proudly alongside the athletes from his home country.
Bieber, 21, stood alongside the Canadian team and helped the games participants get pumped up during the first day of the nine-day event in Los Angeles, California.
"Turn on @espn now! Let's to Canada," Bieber Tweeted, sharing a video of himself chanting "Let's go Canada" with the athletes.
Turn on @espn now! Let's to Canada!!! #SpecialOlympics pic.twitter.com/dH1RkWAiL1

— Justin Bieber (@justinbieber) July 26, 2015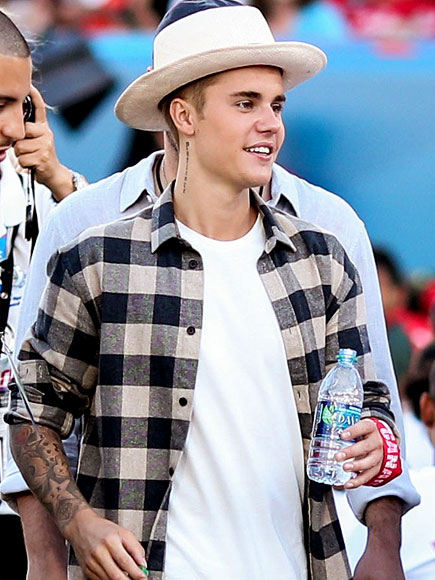 Xavier Collin / Image Press / Splash News Online
Bieber, who was wearing a gingham shirt and straw fedora for the event at the Los Angeles Memorial Coliseum, also posed for photos with pal
Cody Simpson
, 18,
Maria Shriver
, 59, and
Maria Menounos
, 37.
"#specialolympics," Menounos
captioned the group shot
. "Justin gave me a sneak peak of his new single-so cool!"
Apparently Bieber previewed and performed his upcoming track for the TV host.
"He even sang along which was even more cool," she wrote.
He's No Longer a Baby, Baby, Baby, Oh! Watch Justin Bieber Grow Up
The event, which allows thousands of intellectually disabled athletes to compete in 25 sports, was kicked off by a speech from First Lady
Michelle Obama
.
"To all of our athletes, I just want you to know that all those people won't just be cheering for you, they're going to be learning from you," said Obama. "They're going to be inspired by you. And they'll be reminded that at our core, we all want the same things – a sense of pride in who we are, and a belief that we can reach our dreams no matter what challenges we face.