Kesha
is escaping her
legal woes
in Turks and Caicos.
The star, who is currently suing her former producer
Dr. Luke
, alleging that he emotionally, physically and verbally abused her for a decade, is on the islands with her boyfriend Brad Ashenfelter. The couple was
spotted leaving from Los Angeles International Aiport
on Friday.
Kesha, 28, is currently sporting blue hair and looked comfy in an oversized t-shirt and sweatpants as she strolled with and embraced Ashenfelter, Saturday.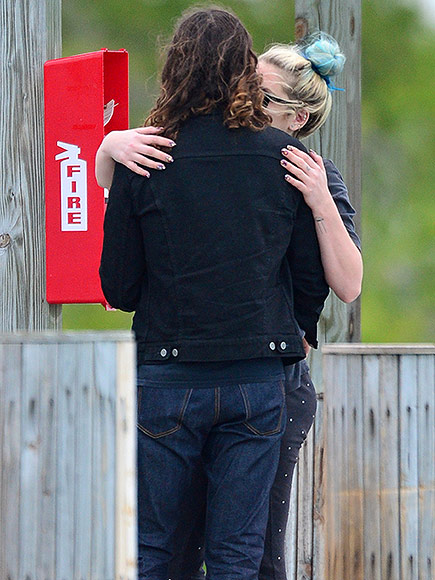 The "We R Who We R" singer also took to Instagram on Saturday, sharing a photo of herself strumming away on a guitar while wearing a bathrobe.
"Can't sleep," she wrote. "Just up all day all night writing. My mind is possessed. I have so much to say right now."
In another photo, Kesha laid in bed wearing the same robe, accompanied by her two cats.
"My babies haven't left my side," she wrote. "I swear they know what's going on. Animals literally make EVERYTHING better."
Dr. Luke has
continually denied
Kesha's allegations of abuse, and, at a hearing last week, a New York Supreme Court judge shut down the singer's request for a
preliminary injection
that would allow her to record music outside of her contracts with Sony and the producer.
Sony attorney Scott A. Edelman told PEOPLE on Friday that the company is "not in a position" to terminate Kesha's contract, as her deal is through Dr. Luke's Kemosabe Records. While Kesha does have the option to record without any involvement from Dr. Luke, her legal team has said that she'll still be contractually tied to the music veteran.
"All I ever wanted was to be able to make music without being afraid, scared, or abused," Kesha said
in a lengthy statement on Facebook
, Wednesday. "This case has never been about a renegotiation of my record contract – it was never about getting a bigger, or a better deal. This is about being free from my abuser. I would be willing to work with Sony if they do the right thing and break all ties that bind me to my abuser. But at this point, this issue is bigger than just about me."