Amanda Bynes
attended her first Hollywood party in a long time Thursday night, making a surprise appearance at the launch of fashion designer Michael Costello's pre-fall capsule collection in Los Angeles.
Bynes, 29, who was last spotted in public
in early June
following two years of well-documented troubles, was photographed in a white lace minidress and dark sunglasses.
The former child star, who has attended fashion school herself at L.A.'s Fashion Institute of Design & Merchandising, toured the event and also spent time with Costello – a season 8 contestant on
Project Runway
– in a back room, perusing the outfits and chatting with his team about design and sketching.
A friend who knows the Costello team reached out to let the designer know Bynes was a fan and wanted to see his new collection.
"[The friend] called and said, 'Can she please come to the event? She's, like, the biggest Michael Costello fan.' I think it's so cute when you hear that big celebrities are fans of yours," Costello tells PEOPLE.
The actress, whom her attorney said in June was in a better place after a turbulent few years of troublesome behavior, smiled for photographers as she left the Costello event.
"Michael was a doll to her, and she had a great time," a friend of Bynes tells PEOPLE. "Amanda was there as a student of design ... She was in a back room with Michael looking at dresses and talking to his staff about design and sketching."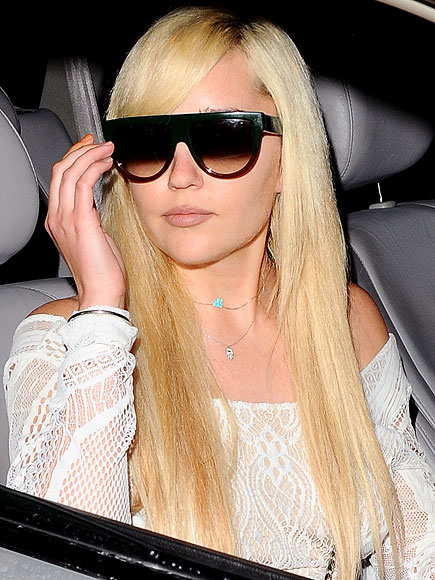 Costello also spoke with PEOPLE about the
peach-colored gown
he made for
Kim Kardashian
that
Caitlyn Jenner
wore in a promo for E!'s
I Am Cait
.
"It's kind of cool," he said. "I had no idea she was going to wear the dress. A mutual friend of ours who is a stylist couldn't even tell us what was going on until the promos came out. My boyfriend showed me the promo and said, 'Don't freak out. Don't have a fit. But I have something really cool to show you.' I was like 'Oh my God, this is so cool.' "
•
Reporting by MATTHEW COLE WEISS and ELIZABETH LEONARD