Although
Angelina Jolie
is starring as the titular sorceress in the Disney movie
Maleficent
, she admits she never dreamed her life would be "a fairy tale."
"I never thought I'd have children, I never thought I'd be in love, I never thought I'd meet the right person," Jolie tells
Elle magazine
in its June issue about fiancé
Brad Pitt
. "Having come from a broken home you kind of accept that certain things feel like a fairy tale, and you don't look for them."
Today, however, the actress and
longtime human-rights activist
, 38, says that she and Pitt "drive each other beautifully crazy."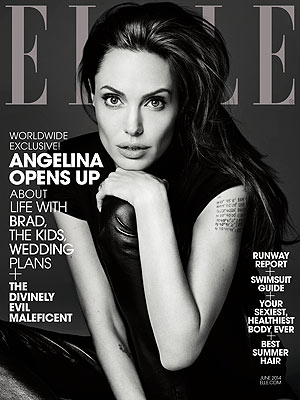 "You get together and you're two individuals and you feel inspired by each other, you challenge each other, you complement each other, drive each other beautifully crazy," she says. "After all these years, we have history – and when you have history with somebody, you're friends in such a very real, deep way that there's such a comfort, and an ease, and a deep love that comes from having been through quite a lot together."
That "history" and "deep love" mean one thing for the couple: a road to marriage.
Speaking with French newspaper
Le Parisien
, the actress opened up about their plans to eventually head down the aisle.
"We're still engaged. We're still thinking about it," she said. "We plan to do it at some point."