This weekend, nearly 25 years after the events themselves,
Anita Hill
's story will be brought to life in the
HBO film Confirmation
, with
Kerry Washington
taking on the role of the law professor who accused Supreme Court Justice
Clarence Thomas
of sexual harassment.
For those of you who didn't tune in the first time – or those who simply need a refresher – here's everything you need to know about Hill's groundbreaking testimony that rocked the country and changed the way America handles allegations of sexual harassment.
Who is Anita Hill?
Hill was a law professor at the University of Oklahoma when she came forward during the Senate Judiciary Committee's confirmation hearings for eventual Supreme Court Justice Thomas and claimed that he had sexually harassed her while she was working for him as an aide at the Department of Education and at the Equal Employment Opportunities Commission.
How did the saga begin?
When Justice Thurgood Marshall – the first-ever African-American to be appointed to the Supreme Court – decided to retire in 1991, it fell on then-president
George H.W. Bush
to replace him. He chose Thomas, an African-American federal judge.
During Thomas' confirmation hearings, Hill submitted a confidential statement to the Senate Judiciary Committee alleging the judge had sexually harassed her. The FBI, which had already investigated Hill's allegations, came up with an "inconclusive report," which it gave to the committee.
The committee chose not to pursue the matter – but two days before Thomas' appointment was expected to be officially confirmed, Hill's statement was leaked to the press, causing an instant frenzy. Under increasing pressure from the Democrat-controlled Congress as well as women's rights organizations, Hill was allowed to testify. She did so in October 1991, during a hearing that was televised to millions.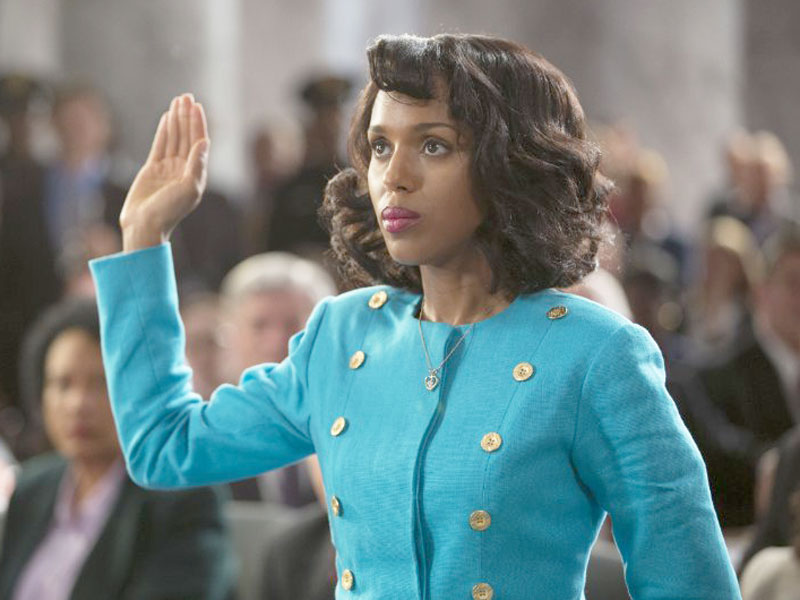 What was the reaction to her testimony?
Many people who were in support of Thomas' appointment doubted Hill's credibility, especially because they had worked together twice (at the Department of Education and again at the Equal Employment Opportunities Commission). The length of time between the alleged incidents and her testimony (10 years) also fueled their doubts.
Hill
passed a polygraph
test on her sexual assault allegations. Thomas, on the other hand, refused to take one, a decision Bush supported.
Thomas vehemently denied the accusations throughout the hearings. "This is a circus. It's a national disgrace," he said during the hearings. "It is a high-tech lynching for uppity blacks who in any way deign to think for themselves and it is a message that unless you kowtow to an old order you will be lynched, destroyed, caricatured by a committee of the U.S. Senate rather than hung from a tree."
What do people remember from Hill's testimony?
Hill claimed that during her two years working under Thomas, he made all sorts of sexually charged comments to her. These included Thomas discussing his penis size, saying it was "larger than normal," and his talent for pleasuring woman through oral sex. In addition, Hill said he asked her out "several times." (They were both unmarried at the time.)
His comments, she said, made her increasingly uncomfortable, and led her to fear for her job, and that Thomas would intentionally try to harm her career prospects.
"I began to feel severe stress on the job," Hill said. "I began to be concerned that Clarence Thomas might take out his anger with me by degrading me or not giving me important assignments. I also thought that he might find an excuse for dismissing me."
Without a doubt, the most infamous moment from Hill's testimony was also a most inconceivable one – involving a Coke can.
Hill told the committee of Thomas: "He got up from the table at which we were working, went over to his desk to get the Coke, looked at the can and asked, 'Who has put pubic hair on my Coke?' "
Did her testimony change anything?
In terms of Thomas' appointment, not really. He was confirmed, but in the closest vote in Supreme Court confirmation history: 52-48.
But in terms of making a lasting impact on the way America views sexual harassment, the change was substantial. Many credit Hill for furthering nationwide awareness about sexual assault in the workplace, as well as opening up the conversation on the subject. Within just five years of her 1991 testimony, the number of sexual harassment cases doubled, starting at 6,127 in 1991 and growing to 15,342 in 1996. Awards to victims quadrupled in the same five years, from $7.7 million to $27.8 million.
Hill didn't just change the way the country viewed sexual harassment, but also the makeup of American politics. In the year following her testimony, women won five new seats in the Senate and 24 in the House of Representatives. During Hill's testimony, women accounted for just 2 percent of the Senate.
"Women clearly went to the polls with the notion in mind that you had to have more women in Congress," Washington D.C. Congressional delegate Eleanor Holmes Norton told
The Washington Post
in 2011.
While conditions have undoubtedly improved for women in the workplace over the last 25 years, Hill says the process for reporting sexual assault is still far from perfect. "I think people are well aware that they have a right to come forward," she told
MSNBC
. "But many people have a fear that the processes will not give them a fair hearing."
Despite the "circus," as Thomas called it, Hill never doubted her decision to speak her mind.
On the night of Thomas' confirmation, she was asked if she regretted stepping forward.
Her response?
"I'm not sure if I could have lived with myself if I had answered those questions any differently."