Ann Rodgers, the 72-year-old woman who
survived 9 days in the Arizona wilderness
with no major health issues, says her dog, Queenie, played a big role in her survival.
"Queenie became my pathfinder," Rodgers told
The Washington Post
of her 2-year-old rescue Queensland terrier mix. "She was the one who would range ahead of me to find the game trail, or cowpath or place to cross a river safely."
The Tucson, Arizona, woman became stranded on March 31 when she got lost and ran out of gas on her way to Phoenix to surprised her grandson on his birthday. She was discovered nine days later after subsisting on pond water and plants – five pounds lighter and suffering from dehydration and exposure, but otherwise okay.
"I was eating desert plants," Rodgers told
CBS News
. "My dog was too, diving into clover and finding all the places that were the easiest path for me to take."
Rodgers' ordeal began when she made a "waaaay wrong turn" while looking for a gas station, and explained that she spent her first night stranded on a remote stretch of road near Canyon Creek on the White River Indian Reservation, hoping a vehicle would pass by. She survived the chilly night by cuddling with Queenie, her 2-year-old rescue dog, and her cat, Nike, the
Post
reports.
"I waited until sun up the next morning hoping a truck or car, anybody, anything would go by, even a steer! I didn't care, anything alive," she recalled to CBS.
After running out of water the next day, Rodgers made the decision to climb a nearby ridge in order to find a cellphone signal so she could call for help.
"I knew very well that you're never supposed to abandon your vehicle," she told the
Post
, "but the choice was either leave it or go without water. And how long can you do that in the desert?"
Her car was discovered on April 3, setting off a massive search, according to
Reuters
.
Rodgers was well prepared for her time in the mountains by a childhood spent outdoors hiking and fishing. The only protein she ate during her ordeal was from a turtle she spotted swimming in a creek.
While she knew she possessed the skills to survive, she began to fear she was losing energy. She told the
Post
that her Congregationalist faith kept her from giving up.
"I found an elk carcass, bleached white, long gone. Pulled that out on the sandy beach pointed it toward a big sign that said, 'HELP' with an exclamation point made out of white stones and sticks," she explained.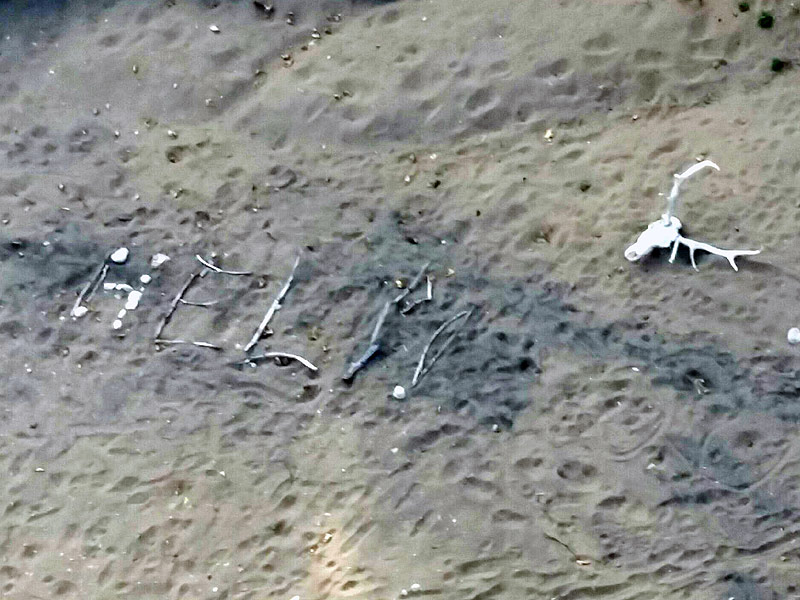 Arizona Department of Public Safety / AP
Help finally arrived on April 9 when Queenie was seen walking alone in Canyon Creek.
Fifteen minutes later, a state helicopter spotted Rodgers as she stood next to a signal fire. She called the moment she spotted the helicopter "remarkable."
"When that helicopter, that air rescue police copter landed, I just sat down and bawled," she said, per CBS. "Remarkable, remarkable, remarkable."