Know a hero? Send suggestions to heroesamongus@peoplemag.com. For more inspiring stories, read the latest issue of PEOPLE magazine
Eight-year-old
Arianna Nichols
wants to protect America's first responders, so she makes tiny crosses out of beads and sends them as gifts to police officers and firefighters around the country. So far, the Illinois third-grader has dispatched more than 10,000 handmade crosses to departments in all 50 states.
"I want to protect our police and firefighters," Arianna tells PEOPLE. "I know that a plastic cross will not protect them, but I hope it reminds them to pray, and I hope God will answer their prayers."
"I make the crosses to spread God's word," the devoutly religious girl adds. "I make them because it's a symbol of God's love."
Arianna began making the shapes last year when she received a Perler bead kit as a birthday gift. The kit's pattern booklet contained instructions for making a cross.
She made several. Then she gave them away.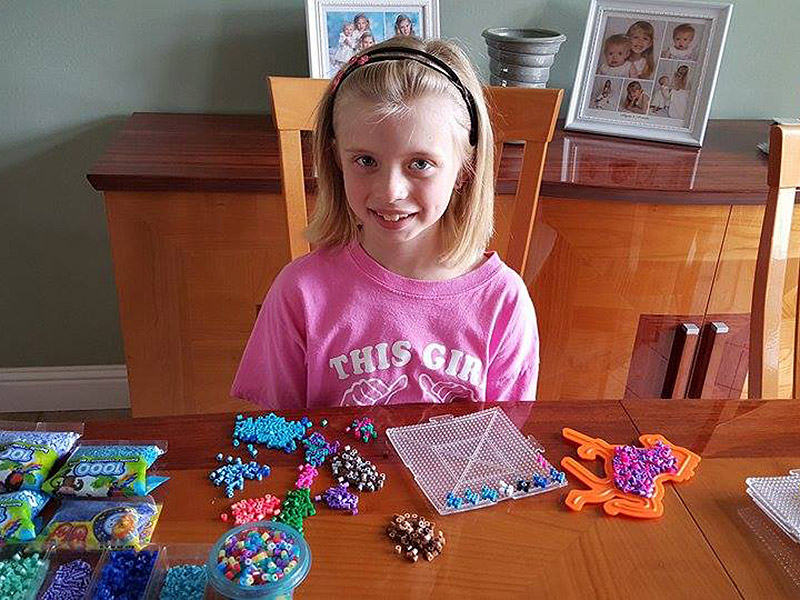 "She walked around the neighborhood and had them in a bag," says Arianna's mom, Laura Nichols. "She gave them to anyone she saw: Restaurant workers, delivery people, mail carriers. She ran out of people to give them to."
Eventually, Arianna gave a cross to a family friend who is a police officer. The little girl added a handful for the friend's coworkers.
"The project took off from there," Laura says.
Soon, Arianna was busily crafting beads for other police and fire departments.
"I use blue for police, and sometimes blue and black in memory of fallen officers," Arianna says. "I use fire colors for firefighters. I also make brown ones because they look like real wooden crosses."
The industrious crafter worked out a production schedule.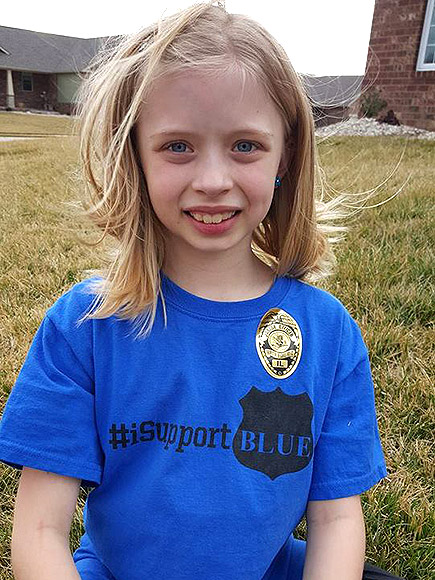 "I timed myself," Arianna says. "It takes about four seconds to make one cross. It takes 20 minutes to make a full tray of 42."
She completes from five to seven trays per day.
Arianna's mom helps her daughter finds recipients.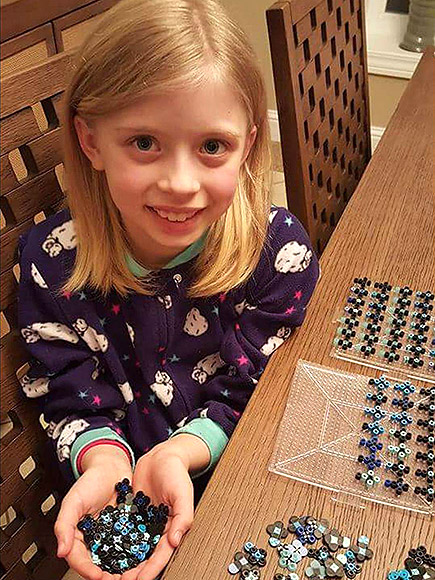 "I literally Google police departments and cold call them," Laura says. "We're careful about this. We don't want to force crosses on anyone who doesn't want them."
So far, no department has refused the gifts.
"I was truly flattered to receive one of her crosses," says Officer Jeni Kyrouac, who works for the Collinsville Police Department in Illinois. "She is this little teeny adorable girl, and she is full of love."
Arianna's love, in the form of a handmade cross, moved even the department's most "crusty, cantankerous" officer, Kyrouac says. "It was so touching to see her have that effect on him, to make him smile."
Officers carry their crosses with them while on duty, Kyrouac says. "It's a lovely feeling to know that a child cares about us that much, to want to protect us."
When she is not making crosses or doing her homework, Arianna looks for other ways to be helpful.
"I like to pick up trash outside on our walks," Arianna says. "I want to do it because I want to take care of the Earth and take care of the planet."
Arianna also has high aspirations for the future. "I want to be a peacemaker and a saint," she says.
Meanwhile, using a trove of beads donated to her by the Perler company, Arianna is working to fulfill a backlog.
Recently, she sent 500 crosses to the Prince William County Police Department in Virginia, in honor of Officer Ashley Guindon,
who was killed in the line of duty
her first day on shift.
"I'm going to keep on doing this," Arianna says. "I keep trying to find more departments."