After Ben Higgins made viewers swoon as a fan favorite on Kaitlyn Bristowe's season of
The Bachelorette
,
he's now on his own journey to love on
The Bachelor
.
He'll be blogging exclusively about each and every rose ceremony for PEOPLE – check back each week and follow him on Twitter at @benhiggi!
I cannot figure out how to start this blog. I have never blogged before, and, in addition, I have never written about a night where I met 28 amazingly beautiful women. This experience is just too surreal to be real. And even sitting here today, having lived it all and watched the first night on TV, I can't believe it actually all happened. So, I am in a continual cycle of typing then deleting the first sentence to this blog. Anyways, when I don't know what decision to make it's usually best when I just jump in and begin … so let's begin!
Things like this don't happen to me. I mean I'm not "The Bachelor." I know that's what people call me now, but I am just a software salesman from a tiny town in Indiana. Even when I tried out for
The Bachelorette
, I never thought it would go anywhere, and now here I am.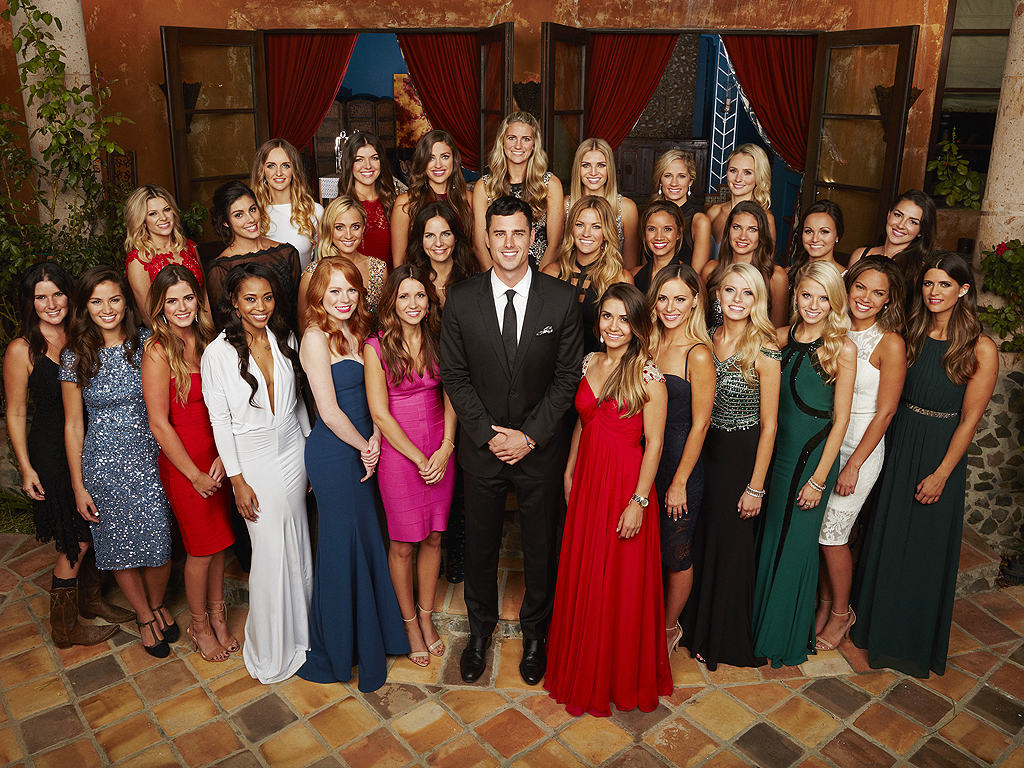 It's been a whirlwind, but I am just trying to keep my head on straight. It's so crazy going back to the places where I grew up and to my high school and having people actually excited to see me! It still hasn't sunk in, and I doubt it ever will. Hopefully in time this will all fade and I'll just be Ben from Indiana again, but for now I am soaking up and enjoying and really APPRECIATING all that everyone has done for me to be here today.
And that's the key thing about when I went back home before this whole thing started; there is no way I would be here with all of this opportunity ahead of me, had it not been for the people in my life that have loved me and supported me along the way. Sitting with my parents and just being able to talk openly about my hopes and fears going into this really meant the world to me. My parents are truly my idols. I would not be the man I am today without them by my side, and I can only pray that I walk out of this whole crazy thing with a relationship as amazing as theirs.
And can we talk about the whole "unlovable" thing for a minute? I don't want people to get the wrong idea when I say that or think that I am being insincerely humble or beating a dead horse about it or anything like that. I really don't even like talking about it that much but in an attempt to really be open and put my whole self and heart on the table going into this, it is a real fear I have that I don't want to ignore. So here it is …
When I say that I worry about being unlovable, it doesn't mean I think I am some awful person or have no self-confidence or that I don't have people that love me in my life or anything like that. But in my experience in relationships so far, it has felt like I have been more invested in the relationship than the person I was dating at the time. I've had my heart broken. So until I am with someone that loves me wholly and gives themselves to me as fully as I give myself to them, it can be hard for me to know that that can happen for me.
It's an insecurity. We all have them, and no amount of being told I am crazy or that anyone would be lucky to have me is going to make that go away. That won't happen until I have that love and am in that relationship like the one I see my parents have. Which is exactly why I am here and what I am sincerely hoping to find in this experience.
So here we go! After
Chris Harrison
told me the first limo was arriving (Thanks for the hug, Chris!) I remember looking up at the sky thinking things like this do not happen to people like me. In addition, I was just happy to know there were enough women that showed up to fill a limo!
RELATED VIDEO: Kaitlyn Bristowe Predicted Ben Higgins Would Be the Next Bachelor on PEOPLE Now!
Please understand I am a very normal, average guy from Indiana who was standing in Los Angeles in front of a mansion with the opportunity to some amazing women who had already given up time in their lives to be with me on this journey. I was nervous. My mind was racing. How in the world was I going to be the man that each one of these women deserves in a situation so uniquely odd?!
As the first limo pulled up into the driveway I quickly said a little prayer and thanked God for continuing to be with my on this constantly weird experience we call life. When that first door opened and Lauren B. got out, I knew she was there for me because
wow!
Just wow. She took my breath away but also just eased my nerves with how normal it was to meet her in such an abnormal circumstance. That helped a lot.
Speaking of calming my nerves, these girls did an incredible job. They were just so amazing! Caila just jumping in my arms made me laugh and made my heart warm all at once. She has such an energy – you wouldn't believe it unless you've ever met her.
Jami really had me nervous for a minute, especially when she told me that she knew
Kaitlyn
and had talked to her about me, but I should've expected a sense of humor like that from any friend of Kaitlyn's. Good job Jami, you made me sweat!
I was definitely feeling a little warm after meeting Lace too. Not many girls can pull off a kiss before you even say hello but Lace sure did. Again,
wow!
Wasn't expecting that at all!
RELATED VIDEO: How Much Sex Goes Down Behind the Scenes of The Bachelor?!
I thought I might be losing my mind when I saw a mini horse coming up the driveway, but how cool was that?! Maegan is truly one of a kind, and I only regret that America didn't get to see more of her like I did because she is awesome, and Huey definitely gave me competition as the most popular guy in the mansion that night.
But while we're at it, can we take a second and admire each one of the women that got out of the limo on night one? The women sure outdid themselves did they not? I mean from Mandi's self-made rose hat to Lauren H.'s adorable bouquet toss, they just exceeded my expectations in every possible way. Seeing each one of these women get out of the limo (prop or not) helped calm my nerves and anxiousness. I was just happy anyone showed up, let alone 28 women as beautiful as the ones that I met that evening. I seriously cannot thank each one of them enough.
That's why I just had to call my parents before I went inside. They were truly living this experience with me, and I wanted to share that with them. I knew they were as nervous as I was and wanted them to know how great it was going from the start before it got too late out in Indiana. I just wish they could've been there to see all of this.
But as amazing as the limo entrances were, it didn't end there. As beautiful as these women all were, they were so smart and sweet and charismatic too! I mean just impressive! Words can't describe how blown away I was by each and every conversation I had. From having a woman as impressive as Jen telling me that she was actually attracted to ME to talking to Jubilee about her being a war veteran! And the twins! How could I have gone this far without talking about Emily and Haley! My mind was blown meeting them, and, even though they look so similar, it was apparent right from the start that even as individuals they are really incredible women.
But the most shocking part of the night might've been when Becca walked into the room while I was talking to Lauren H. … and then Amber too! I had NO idea what was going on, and I think that showed on my face. Where they here for me? Or just to offer advice to the other women? I was clueless. And when they told me they were here to stay, I was extremely flattered.
RELATED VIDEO: You've Got to Hear Chris Harrison's Worst First Date Idea
Despite what people at home may think, this is not an easy thing to go through. There are parts that are incredible, sure, but no one will ever call it easy. That they were showing up again because they saw something in me, words can't describe how honored I felt.
So when Chris Harrison dropped that First Impression Rose on the table, my head was spinning. How was I going to be able to single out just one woman from all these unbelievable women?! I mean, come on!!!
But as hard as it was, Olivia really blew me away that night – and not only with her beauty, but also with her poise and intelligence and even more so with all that she gave up for a chance at finding love. Especially after going through this last season, it is not lost on me what each and every person has to go through and give up to be here, and what Olivia put aside and how confident she was that it was the right choice just made me feel so incredibly blessed.
And I still had to do a rose ceremony! I think it was Jen who mentioned how intimidating it was to be standing amongst "an army of freakishly good-looking women," but think about where I am standing! That army is all staring right back at me, and I have to make those decisions?! The words have not even been invented yet that can describe how nervous I was. I came here to find a wife and with so much going on that night it terrified me that I might be making a mistake right then and there and sending home my future wife before I even got a chance to really know her. But I had to trust in God and that he would guide me in the right direction through this all.
But when it was all said and done, as hard as it was, I was left with an unbelievable group of women to embark on this journey with. And honestly, I could not have been more relieved that that first night was over … or so I thought!
When Lace pulled me aside, I was floored, honestly. After all that had gone on that night (and I hadn't even seen the half of it!) was she really questioning my intentions after I had just sent seven incredible women home?! But I guess you'll have to see next week. Just the first of an immeasurable amount of twists, turns and surprises on what was the most unforgettable journey of my entire life.
Thanks for reading and see you guys next week! Same time, same place!
The Bachelor
airs Mondays (8 p.m. ET) on ABC.