A cause close to the late
Beau Biden
's heart is getting some support in his home state of Delaware.
With Biden's widow and sister at either elbow, Gov. Jack Markell on Tuesday signed into law the Joseph R. "Beau" Biden III Child Protection Act, which consolidates regulations for background checks on people who want to work or volunteer at summer camps, private schools and other entities serving children, the
Associated Press
reports.
The new law prohibits anyone with a felony sexual assault conviction or a misdemeanor conviction for a crime against a child from working at an entity covered by the law, according to the
News Journal
.
Biden, who
died of brain cancer in May
, made it one of his life's missions to help protect children from sexual predators and abuse. During his first year in office as attorney general of Delaware, he created a Child Predator Task Force in order to find and arrest people who commit sex offenses against children. Shortly after his death, his widow, Hallie,
started a charity
, the Beau Biden Foundation for the Protection of Children, honoring his work on behalf of abused children.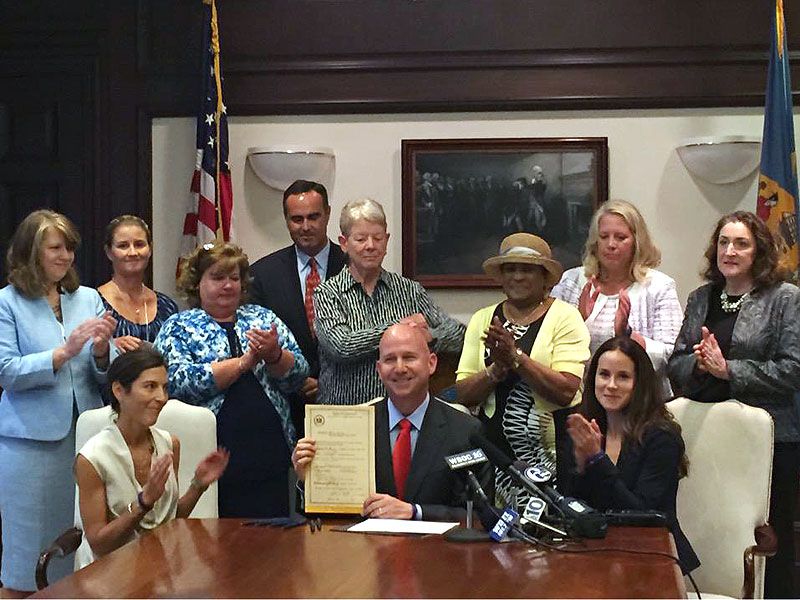 Courtesy Office of Gov. Jack Markell
Markell signed the law in his Wilmington office on Tuesday. Hallie, looking drained, was at Markell's side, along with Biden's sister, Ashley Biden.
"Protecting kids was Beau's life's work, and I know he would have been so pleased to watch the governor sign it in to law," Hallie Biden said in a written statement released by a spokesperson.
Markell called the new measure "another important step in ensuring our children are safe" and one that honors Biden's memory and "his tireless dedication to Delaware's children."