"I've talked about bulimia, anorexia, depression and losing my daughter in a custody battle but never about drugs," says
Beverly Johnson
, the legendary model who became the first African-American face on the cover of American
Vogue
back in 1974. But as she reveals in her new memoir
The Face That Changed It All"
there were even more secrets, including a drug addiction and a near overdose, about her life in the fast lane. "You laugh and cry but it's my life," says Johnson, 63. "I hope it can inspire. "
In her new book, Johnson, who's recently been back in the spotlight, for saying she
was drugged
by
Bill Cosby
in the mid eighties, reveals more bombshells, from barely eating in order to stay super model skinny, to new details about the many famous men in her life.
Back in the early seventies, the modeling agent Eileen Ford first dismissed Johnson (then 5'9" and 125 pounds) with two words: "Too fat." Ford also told her the career of a model in front of a camera wouldn't last more than five or six years. Johnson would prove her wrong – on both counts.
To become a size zero, Johnson nearly starved herself until she weighed just 103 pounds. "I was eating nothing, zero," she says. "I drank black coffee, a sip of broth if things got tough, and in the evening, a glass of champagne as a pick me up. We didn't even drink water. We thought it was was fattening." One day, she began having convulsions in the back seat of a taxi and had to grab a bag of peanut M&M's to jolt her blood sugar back. Asked how she survived those years, she says, "You didn't have to think."
"The skinner you were, the more fabulous you were," says Johnson. "Drug use was encouraged. It was like 'Oh my god, you are chiseled to the bone.' All of the things you needed to be a high class model: high cheekbones, bright eyes, that was all provided by the drugs. It was like being offered a drink. It was one of the perks. People around us always had it."
Johnson became a cocaine addict, and at one point, was using one gram a day. "We thought it was glamorous and expensive," she says "but it was all a delusion."
Still, the parties continued. One memorable night at Studio 54 lasted three days. "People were walking around naked, fornicating," she recalls. "There were drugs everywhere. When I walked out of there, I thought 'Never again.'"
In 1983, she suffered a near overdose. "It felt like my heart was going to come out of my chest," she says. "You think you just want to lie down but that's when you die. My boyfriend threw me in the cold shower, shoes and all, and made me drink a whole carton of milk and I stabilized." Looking back, she says "I'm lucky to be alive."
By then, Johnson was at her lowest point, nearly broke, out of work, and battling her soon to be ex-husband music producer Danny Sims over the custody of their daughter Anansa, then a toddler. Their volatile 18 month long marriage ended when he stole her modeling profits, hit her and threatened her with gun. "I'd never been so afraid my entire life," she says. With nowhere to turn, she entered a twelve step program in the early eighties and finally got clean: "I realized drugs could kill you and my daughter would not have a mother if I didn't get help."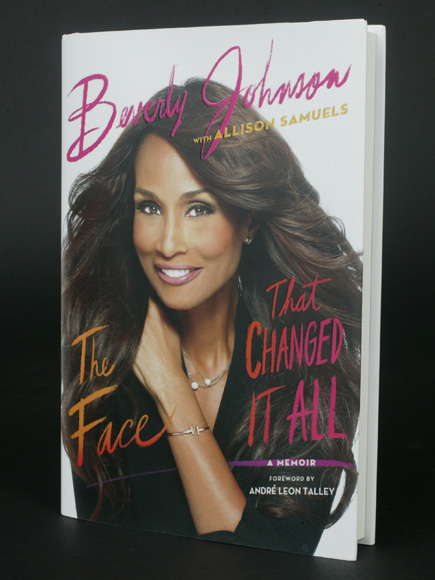 Her memoir also features more light hearted moments and sexy tales of the many famous men in her life from
Eddie Murphy
to
Chris Noth
to tennis ace Arthur Ashe. "If we married, we would have been the
Beyonce
and
Jay-Z
of our day," she writes about her fling with Ashe. She also reveals her unusual friendship with
Michael Jackson
who would call her for makeup tips to cover up his acne.
But it was
coming forward to speak out
about Bill Cosby that made Johnson realize "I have to use my voice for good."
"I didn't plan on that being part of my legacy," she says. "It's not about fashion. It was ugly but it will forever be part of who I am."
While representatives for Cosby have not commented specifically on Johnson's allegations, his attorney has denied previous accusations of sexual misconduct by his client. "The new, never-before-heard claims from women who have come forward in the past two weeks with unsubstantiated, fantastical stories about things they say occurred 30, 40 or even 50 years ago have escalated past the point of absurdity," Singer said in a statement late last year.
Now busier than ever with her lifestyle line, which features mineral makeup, bags and a line of hair extensions, and a new reality TV show in the works, she says, "There's no such thing as retirement."
As for her feelings on aging, she puts it this way: "My soul is aging gracefully but everything else must stop!"
For more on Beverly Johnson and her surprising new memoir, pick up a copy of this week's PEOPLE