Beyoncé
is satisfied with her Pepsi
Super Bowl 50
halftime show performance.
The singer spoke with
Entertainment Tonight
after Sunday's show, in which she debuted her new song "
Formation
" in a performance alongside
Coldplay
and
Bruno Mars
.
"It makes me proud," the 34-year-old said, and added that it "felt great" to sing her new hit in front of so many people.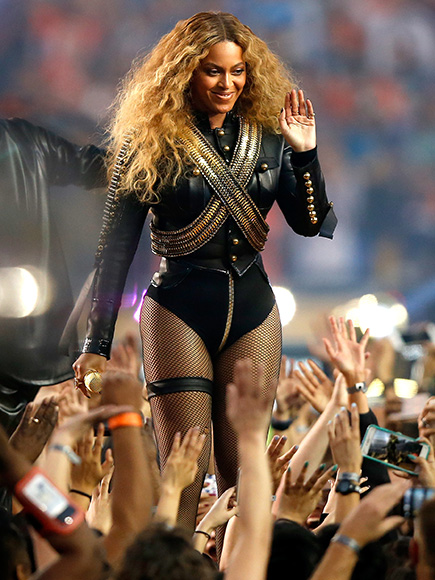 The hyped halftime show included Coldplay performing numerous hits amid a full marching band and an entire Day-Glo colored orchestra – Beyoncé said seeing the band perform was her favorite part of the show.
She took to the field with a slew of dancers, all wearing an entire black ensemble topped off with berets. She performed the song just one day after its release, which was accompanied by a video filled with powerful messages.
"I like my Negro nose with Jackson 5 nostrils." #ISlay #Formation

— Uzo Aduba (@UzoAduba) February 6, 2016
Luckily the smelling sauce is next to the #hotsauce in my bag swag as I am on the way to #redlobster in Bey's chopper. #Formation

— Laverne Cox (@Lavernecox) February 6, 2016
I didn't need every aspect of Formation to resonate with me in order to appreciate it and love it as a celebration of blackness.

— Neveruary 32nd (@MomDeanie) February 8, 2016
#Formation is possibly the best music video Beyonce has done in years. I wish I could find the director's name.

— X (@XLNB) February 6, 2016
The singer told
ET
that she wants the single to have a positive impact on her fans' lives.
"I wanted people to feel proud … and have love for themselves," she said.
In the video, Beyoncé makes visual references to Hurricane Katrina, the black South, police brutality, feminism and African-American culture. The song and video quickly caught – and held – the attention of social media, with
Twitter
users calling it a "celebration of Blackness."
But both the video and Beyoncé's halftime show performance have sparked backlash, with many social media users calling "Formation" "
anti-police
" and tweeting #BoycottBeyonce
NFL should be ashamed that it is going to let Beyonce sing a song that smears police officers. #boycottbeyonce

— Kathy Camp (@TNKingsKid1) February 7, 2016
If you love the men and women who serve in our military and police our streets #BoycottBeyonce because their lives matter. #SuperBowl

— Quints Bakery (@katomart) February 7, 2016
Former New York Mayor
Rudy Giuliani
criticized the performance Monday on
Fox News
, calling the singer's display an attack on police.
"This is football, not Hollywood, and I thought it was really outrageous that she used it as a platform to attack police officers who are the people who protect her and protect us and keep us alive," he said, and added that the performance should have been "decent" and "wholesome."
Beyoncés dancers in black berets at #SB50 paying homage to the Black Panthers 50 years after their #formation in '66 pic.twitter.com/YXpzBkkm6s

— The Dream Defenders (@Dreamdefenders) February 8, 2016
Beyonce's dancers paid tribute to #MarioWoods, black man killed by San Francisco police. #SB50 #BlackLives pic.twitter.com/m2Pl9i5qKL

— Jamilah King (@jamilahking) February 8, 2016
Beyoncé Formation video & #SB50 act was anti-police, shameful. Repeats big lie of Michael Brown innocence.Cops deserve support not criminals

— Rep. Pete King (@RepPeteKing) February 8, 2016
During the performance, Beyoncé's dancers wore berets similar to ones wore by Black Panthers. The dancers also appeared in a photo with their fists raised with one holding up a sign that read, "Justice 4 Mario Woods" – a 26-year-old shot by police in San Francisco last year.
New York Rep. Pete King appears to share Giuliani's view. On Monday he
tweeted
that both the "Formation" video and Beyoncé's Super Bowl performance were "shameful."