Beyoncé
's
Lemonade dropped over the weekend
, and the first thing that most of its listeners noticed was that it seems to paint a not-stellar picture of Bey and Jay Z's marriage.
At least one celebrity has already been caught up in the firestorm:
Rachel Roy, who's the rumored focus
of the line "He better call Becky with the good hair" in the album's fourth track, "Sorry." But there's
a lot
more to unpack with
Lemonade
, so let's go track-by-track and do this, shall we? (And if you're looking to stream along, you're out of luck unless you have a Tidal account, but
Lemonade
is now available for purchase at iTunes, so there's that.)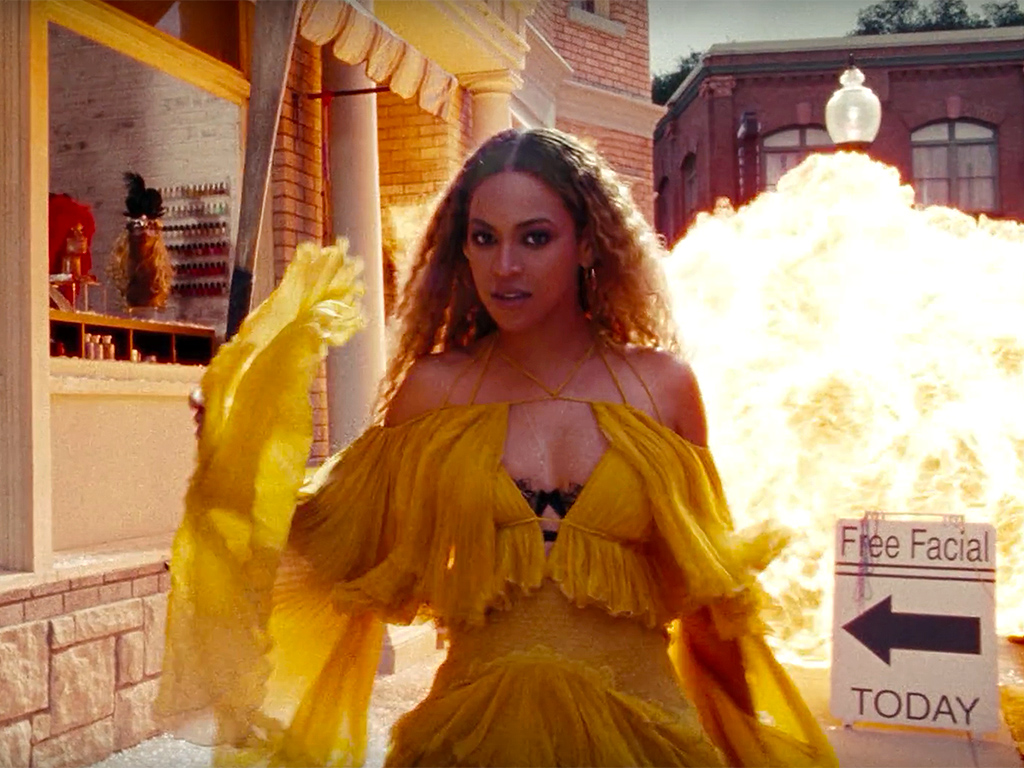 Source: Beyonce / YouTube
'Pray You Catch Me'
"You can taste the dishonesty / It's all over your breath as you pass it off so cavalier," is the first line of
Lemonade
, in "Pray You Catch Me," and it definitely seems to set a tone for the rest of the album. "My lonely ear / Pressed against the walls of your world," is another pointed line from the song, painting a relationship closed off by mistrust or infidelity. The song's chorus, "Prayin' to catch you whispering / I'm prayin' you catch me listening" comes across as a plea for confirmation of infidelity/dishonesty and a warning to the other party that Bey's onto you.
'Hold Up'
"Hold Up" lifts the chorus of the Yeah Yeah Yeahs' "Maps," ("Wait, they don't love you like I love you") and combines it with at least one accusatory line: "What a wicked way to treat the girl that loves you." It's also home to the second olfactory-and-infidelity-linked line of the album: "I smell your secret, and I'm not too perfect / to ever feel this worthless." The song's second verse seems to explicitly address Jay Z's past, imagining he never rose to fame and instead remained a drug dealer ("Never made it out the cage, still out there movin' in them streets"), before wondering of his alleged trysts: "Would they be down to ride?" The line "Never had the baddest woman in the game up in your sheets" could also be read as a callback to
Jay's line from
"Public Service Announcement" on
The Black Album
("Got the hottest chick in the game wearin' my chain").
'Don't Hurt Yourself'
The Led Zeppelin-sampling "Don't Hurt Yourself" shifts gears from hurt to anger: "Who the f--- do you think I is? / You ain't married to no average b---- boy." Also the third reference to a scent giving away infidelity: "I smell that fragrance on your Louis V boy / Just give my fat a-- a big kiss boy." Oh, and then there's the line Bey ends the song with: "If you try this s--- again / You gon' lose your wife."
'Sorry'
"Me and my ladies sip my D'Ussé cup" is a reference to Cognac brand D'Ussé, which Jay partnered with in 2012 and has been name-checked in multiple songs, including "Drunk in Love." The line "chucking my deuces up" (throwing a "peace sign") is another Jay call-out: In "Part II (On the Run)," he raps, "Chuck the deuces, chugging D'ussé." There's also the line "Looking at my watch, he shoulda been home / Today I regret the night I put that ring on," which doesn't require much deciphering, and lastly, "He better call Becky with the good hair," which
we've already explored in-depth here
.



'6 Inch'
There's another Jay reference buried in empowerment anthem "6 Inch:" The Weeknd sings, "She mixing up that Ace with that Hennessy / she love the way it tastes, that's her recipe." "Ace" is slang for "Ace of Spades," or Armand de Brignac, a brand of expensive champagne owned by … Jay Z. Then there's the song's outdo: "You always come back to me," followed by the repeated line "come back," which is either an admission that the unfaithful partner always comes back following their trysts, or a plea for them to do so.

'Daddy Lessons'
Other than being an AWESOME indication that Bey could have a great country career if she wanted, "Daddy Lessons" does contain one line that, though a cliché, could still be a jab at Jay: "My daddy warned me about men like you / He said baby girl he's playing you."


'Love Drought'
One of the interesting things about
Lemonade
is how its tone progresses: It initially starts out hurt, angry and accusatory, and gradually shifts towards reconciliation and forgiveness. "Love Drought" could be considered the middle point of this progression: "Ten times out of nine, I know you're lying / But nine times outta ten, I know you're trying." It's also a bold admission of self-doubt and weakness from Bey: "If I wasn't me, would you still feel me? / Like on my worst day? Or am I not thirsty, enough," before she reaffirms the power of their relationship: "You and me could move a mountain … You and me would stop this love drought."
'Sandcastles'
Probably the rawest vocal performance Beyoncé turns in on
Lemonade
, "Sandcastles" is a portrait of a relationship in the aftermath of an argument ("Dishes smashed on my counter from our last encounter / Pictures snatched out the frame") and an apparently broken promise to leave from Bey: "And although I promised that I couldn't stay, baby / Every promise don't work out that way."
'Forward'
"Forward" is more of an interlude than a full song, but it's interesting that James Blake does the bulk of the singing (from a presumably male perspective) and assumes a position of contrition and reconciliation. "Now we can be open for a while," he promises, before Bey joins him for her sole line on the song, "Go back to your sleep in your favorite spot just next to me."
'Freedom'
Thanks to Kendrick Lamar's politically-minded guest verse, this song reads less about a relationship and more about personal empowerment and social justice, but there's also the line, "I'ma wade, I'ma wade through your shallow love," one of the only lines referencing romance in the song. Hattie White, Jay's grandmother, appears at the end of the song making the album's title clear to anyone who was still in the dark: "I was served lemons, but I made lemonade." (In the HBO film
Redemption
, Bey also recites her own grandmother, Agnéz Deréon's lemonade recipe, indicating the title likely pays tribute to both matriarchs.)
'All Night'
"All Night" seems to represent the end of
Lemonade
's emotional journey: Multiple lines ("Found the truth beneath your lies / and true love never has to hide") seem to reference a couple's reaffirmed commitment to each other and their promise to understand and work past each other's faults ("I'll trade your broken wings for mine / I've seen your scars and kissed your crime") for the sake of the relationship ("Our love was stronger than your pride / beyond your darkness, I'm your light"). But there's a caution there, too: "Give you some time to prove that I can trust you again." There's also another call-out to Jay: "But every diamond has imperfections / But my love's too pure to watch it chip away" – Jay's and Roc-a-Fella's famous "Dynasty" symbol is a diamond – and a line that could be a call to how his rumored infidelities actually brought them closer together: "With every tear came redemption / And my torturer became a remedy." (It's worth noting that the video for "All Night" includes footage of Jay and Blue Ivy with Bey.)
'Formation'
"Formation" doesn't have much in the way of bombshells, probably because it was released so far in advance, and Bey didn't want to spoil the album's conceit and emotional impact. But it does have a pretty revealing admission from Beyoncé and another reference to Jay's "chain" line: "I'm so possessive so I rock his Roc necklaces." It also has some startlingly good advice to wronged people everywhere: "Always stay gracious, best revenge is your paper."