Forget Kevin Bacon – all of Los Angeles is actually connected by the Six Degrees of Kardashian-Jenner.
Amber Rose
(who used to date
Kim Kardashian
's husband
Kanye West
) and
Blac Chyna
(who is
currently engaged
to
Rob Kardashian
) were spotted hanging out in Beverly Hills on Friday.
Rose, 32, wore a curve-hugging black tank top, black leggings and black Converse and topped off her look with (what else?) a black baseball cap. Chyna, 27, also sported dark leggings, but wore hers with a printed Adidas sweatshirt, hot pink sandals and a "MUVA" beanie from Rose's clothing line.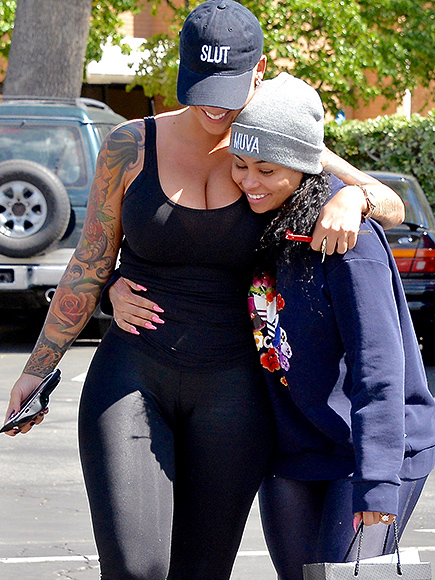 The pair visited a dentist together – where each snapped a selfie with dentist Dr. Kevin Sands – before heading to a nail salon for mani-pedis.
The hangout comes hot on the heels of Chyna's
well-documented make-up
with
Kylie Jenner
, who is currently dating
Tyga
, the father of Chyna's son, King.
On Thursday, Jenner shared a photo with Chyna on Snapchat, writing, "When we've been best friends the whole time." Chyna also shared a few pictures with Jenner on her own Snapchat account, captioning one with, "Hanging out with my lil sis."
Rob celebrated the reunion between his sister and fiancée by posting a mirror selfie of the pair on Instagram on Friday.
"So happy my girls finally got to talk and make peace! #MyFamily #AllLove" he wrote.
Also on Friday, a source
revealed to PEOPLE
that Kylie's big sister Kim was responsible for orchestrating the make-up.
"[Kim] definitely got involved and arranged for Kylie and Blac Chyna to get together," the source said. "Just like Kim
got together with Amber Rose earlier this year
to stop drama, she wants Kylie and Chyna to stop the nonsense."