An American voyager attempting to solve the heartbreaking mystery of missing
Malaysia Airlines Flight 370
has stumbled upon a piece of wreckage off the Mozambique coast that could be a clue to help determine the enigma.
Blaine Gibson, a 58-year-old lawyer from Seattle, Washington, has spent the past year traveling across the Indian Ocean – from the Maldives to Mauritius to Myanmar – searching for leads on the March, 8, 2014, flight with 239 passengers that disappeared from radar en route from Kuala Lumpur to Beijing.
On February 27, Gibson hired a boat captain to take him to the Paluma sandbar, a half-dozen miles from the coastal town of Vilankulos, where he stumbled upon a fragment of a Boeing 777 airplane wing – the same model of the missing MH370 airliner.
"Anything that can help lead to the truth of what happened and get the families the answer that they long for and deserve no matter what they are, whatever the truth is, anything that leads to that, is very good and needs to be done," Gibson told
CNN
.
He adds, "I've been involved in the search for Malaysia 370, just out of personal interest and in a private group – not in a for-profit way or journalistic way."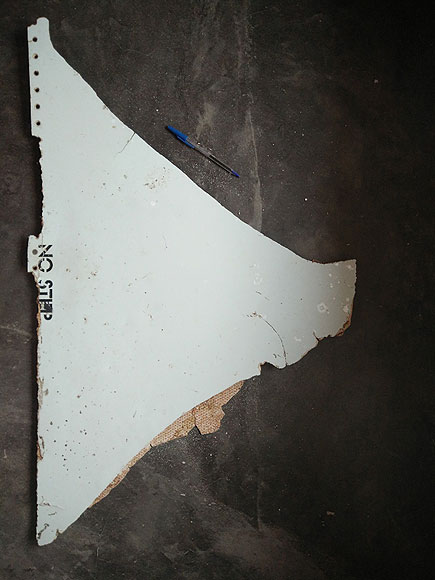 Blaine Gibson / ATSB / AP
According to his friends, the detective-adventurer spearheaded his self-funded international journey to satisfy his general curiosity of what happened to the plane and to provide peace-of-mind to the families of those who disappeared.
"I'm not surprised that he pursued this mysterious disappearance of the plane. He is interested in things that are very mysterious and makes you wonder what happened," Vladimir Gololobov, Gibson's longtime friend, told the
Associated Press
.
So far, Gibson has met Maldives villagers who witnessed the plane fly overhead on the day it disappeared, interviewed the Reunion Island local who found the MH370 flaperon and has even spoke with Australian Deputy Prime Minister Warren Truss to discuss search developments, reports
New York Magazine
.
The piece of "possible MH370 debris" found on the sandbank in the Mozambique Channel is in the process of being transported to Australia for further examination.The Institute of Civil Aviation of Mozambique, had said that American lawyer and blogger Blaine Gibson and a local fisherman discovered the plane part, measuring 130 centimetres by 55 centimetres.The part, which has been described as a "fibreglass skin aluminium honeycomb cored panel" with the printed words "NO STEP", will now be examined by relevant authorities.

Posted by ntv7 7Edition on Thursday, March 3, 2016
Gibson is no stranger to chasing gripping global phenomena, though. Judging by his adventurous past, he's more like Indiana Jones than a lawyer.
In the past he has investigated the Tunguska meteor in Siberia, sought to find Ethiopia's Lost Ark and ventured to Central America to research the disappearance of the Maya civilization, according to New York Magazine.
His recent jaunt to Mozambique actually began as a quest to fulfill a lifelong dream – he aspires to visit every country in the world – and not to look for the plane.
"It was 177th country to visit. I'm here as a tourist, but since I'm passionately interested in MH370, and I am on the Indian Ocean I thought, 'Why not take a boat out and ask some of the local people where stuff washed ashore from the open ocean?' " he told CNN.
On Tuesday, Gibson flew with the possible MH370 fragment to Maputo, the capital of Mozambique, where he turned it over to authorities. The piece will be sent to Australia for further examination.
Authorities are wary as to whether the debris actually belonged to a 777.
Cmdr. Joao Abreu of Mozambique Civil Aviation Authority says it might have come from a "medium-sized plane," reports CNN.
Malaysia's minister of transport, Liow Tiong Lai, took to Twitter on March 2 to urge "everyone to avoid undue speculation."
I urged everyone to avoid undue speculation as we are not able to conclude that the debris belongs to #mh370 at this time. (3/3)

— Liow Tiong Lai (@liowtionglai) March 2, 2016
"It seems so unlikely, too, but the thing is nature works in mysterious ways. Why does the ocean do what it does? I don't know. Maybe this is part of that plane, maybe this is just part of another. It's small and it's very light so maybe it's just from some light aircraft. It would just be so unbelievable if it actually is from 370. That's exactly what went through my mind," Gibson told CNN.
"Whatever it is, even if it's not from 370, it raises awareness that people need to look for stuff on beaches," he told the
news station
.