Blake Shelton
knows how to close a show in legendary style!
The singer shocked the crowd at the Off the Rails Music Festival in Frisco, Texas on Saturday when he walked on stage hand-in-hand with country icon Randy Travis at the end of his set.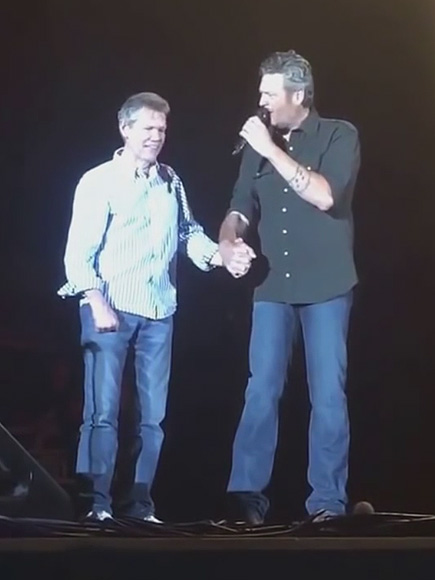 Travis, 56, who
suffered a massive stroke
in 2013 and subsequently underwent brain surgery only to later suffer heart failure following a viral infection, quietly stood smiling and taking in the thunderous applause.
Don't miss a beat of country music news, photos and videos! Click here to get all this and more in the PEOPLE Country Newsletter.
"Ladies and gentleman, this is Randy Travis," Shelton, 39, said introducing the 2016 Country Music
Hall of Fame inductee
to the screaming audience. "You tell me miracles can't happen, you're looking at one right here man – his guy walked out here tonight. This is one of my heroes and it ought to be one of your heroes."
Shelton then turned to Travis and said, "Thank you so much for being here tonight, Randy. We all love you. Look at this, we all love you."