Jim Crismore has dedicated his life to helping children connect with music, but nothing in his 30-year-career has meant more than what he saw happen between 7-year-old Elias Valentine-Wilson, who was born blind and deaf, and a cello.
In a heartwarming video captured by
WTHR
in Indiana, Crismore put a cello in the young boy's hands and taught him how to produce sound. Elias pressed his face against the instrument in order to experience its resonance for the first time.
Elias was so captivated by the sensation that he clutched the cello in close to his chest – his entire face lighting up with joy.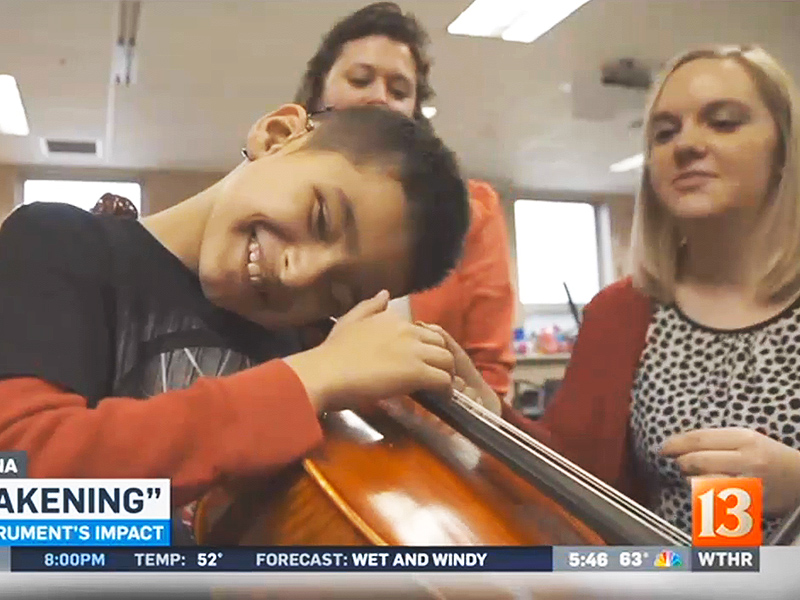 "I never thought I would see him do any of this," his mother told the news station. "When they told me he was blind and deaf, I thought he would sit around and wouldn't know how to do anything, but he is amazing."
•
Need a little inspiration? Click here to subscribe to the Daily Smile Newsletter for uplifting, feel-good stories that brighten up your inbox.
Elias was barely able to communicate until 18 months ago when he began learning to sign at McClelland Elementary School in Indianapolis. Elias now knows 60 sign language phrases, and attending school has allowed him to demonstrate other new abilities as well. He has exceeded expectations in navigating the school's hallways, interacting with his classmates – and now, making music.
Crismore was moved to tears by Elias and said he had never experienced anything like it.
"All the sudden this laugh would come out and I would think to myself: Now that is joy," he said as Elias continued to play.