While his daughter
Bobbi Kristina Brown
barely clings to life
, a devastated
Bobby Brown
is doing the only thing he can: stay by her side.
Maintaining a daily bedside vigil since Bobbi Kristina, 21, was hospitalized on Saturday after being
found unconscious
in a bathtub, the R&B singer "stands over her and touches her hair and calls her 'baby girl,' " a Brown relative tells PEOPLE in this week's issue.
Along with other close family members
gathered in the intensive care unit
, Brown has been singing to Bobbi Kristina – hymns and gospel songs as well as songs by her late mother,
Whitney Houston
. (Bobbi Kristina has since been moved from her Roswell, Georgia, hospital to Emory University Hospital.)
"We'll sing 'Jesus Loves Me,' 'Amazing Grace,' but also some of Whitney's songs," says the relative. "We've been singing 'Greatest Love of All.' Bobby has sung that to her too."
Although his daughter remains unresponsive and can breathe only with the aid of a ventilator, Brown – who is making all the decisions regarding her care, says the relative – is not ready to give up hope.
"Bobby has told us, 'If American thinks she is dead, they will stop praying,' " says the family member. "And at this point, we want people to pray for a miracle."
Over the years, "Krissi" and her father, who turns 46 on Thursday, "have had their ups and downs," a source told PEOPLE after Houston's death in 2012. "They get into big fights and then they don't talk for a while. Sometimes the fights last for a day, sometimes longer. They're both pretty stubborn."
A different Brown relative agrees that the relationship has been a rocky one. "They'll go for months and months without saying a word to each other," says the relative. "They've very alike, which I think is the issue. They will be talking and loving to each other, and then a little thing will turn into something big and they won't talk for a long time. They know how to push each other's buttons."
But through everything, says the relative, "Deep down, they love each other very much. It would kill Bobby to lose her. I mean literally kill him."
•
Reporting by STEVE HELLING
For more on Bobbi Kristina, pick up the new issue of PEOPLE, on newsstands Friday
More on Bobbi Kristina Brown: •
Bobbi Kristina and 'Husband' Nick Gordon Were Never Married'
•
Bobby Brown's Bedside Song to Daughter Bobbi Kristina: 'The Greatest Love of All'
•
Were Drugs Involved with Bobbi Kristina Brown's Near-Drowning?
•
Kevin Costner on Bobbi Kristina Brown: 'I Can't Imagine' What Her Family Is Going Through
•
Bobbi Kristina Brown's Family Keeping Hospital Bedside Vigil
•
Bobbi Kristina Brown Is 'Fighting For Her Life,' Family Says
•
For Bobbi Kristina Brown, Minutes Without Air 'Could Be Grim'
•
Bobbi Kristina Brown Is Still Unresponsive, According to Source
•
Do Bobbi Kristina Browns's Social Media Accounts Hold Clues About Why She Was Found Unresponsive?
•
Bobbi Kristina Brown: Inside the Troubled Life of Whitney Houston's Daughter
•
Bobbi Kristina Brown Hospitalized After Being Found Unresponsive in Tub
•
Stars Rally Around Bobbi Kristina Brown
•
Bobbi Kristina's Husband Is Not the Bad Guy, Says Source
•
Bobby Brown 'Inconsolable' Over Bobbi Kristina's Hospitalization
•
Bobbi Kristina Brown Recovery Would Be a Miracle, Says Source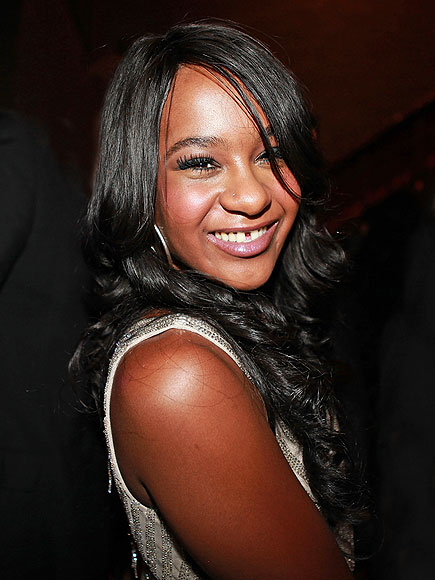 Shareif Ziyadat / FilmMagic