A North Carolina woman is protesting after a judge called her out
for breastfeeding
in court.
Stephanie Rhodus, appearing as a defendant,
was nursing
her 8-month-old son Archer when District Court judge Peter Knight reprimanded her.
"Ma'am, you need to cover up," Knight tells Rhodus, heard in a recording obtained by
ABC News affiliate WLOS
. "For you not to realize that is absolutely ridiculous. Step outside, and cover up right now. Stand up, and go, now."
"To nurse the child in the courtroom is just absolutely inappropriate. Step outside and button up."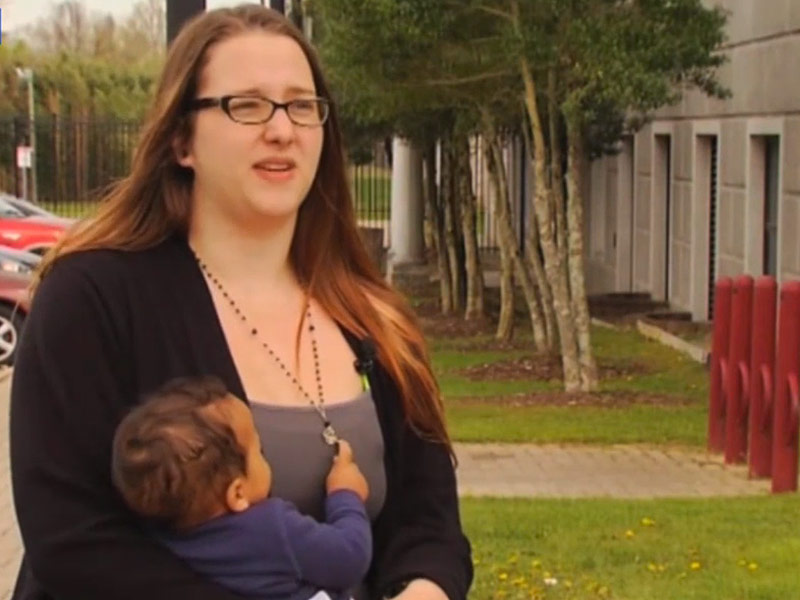 "I was shocked," Rhodus
told ABC News
. "He was so condescending and so aggressive, and I knew that by law I had the right to breastfeed my child there, and I wanted to declare that I had the right to do that there, but I was terrified."
"I just apologized and I stopped breastfeeding him and I tried to continue on with my case."
Women in North Carolina are
legally free to breastfeed
"in any public or private location where she is otherwise authorized to be,"
according to state law
.
Rhodus was in court defending herself against her mother, in the hopes of regaining custody of her 8-year-old son.
But after Knight scolded her, Rhodus says it was hard to keep her focus on the case.
"After I stopped feeding him he became distressed, and fussy, and agitated," she says. "It made the rest of the proceedings pretty difficult."
RELATED VIDEO: I Had So Much Judgment': Celeb Moms on the Battle to Breastfeed (... and Cabbages!)
And Knight ruled against Rhodus, giving her mother a six-month protective order that stops Rhodus from seeing her son.
Rhodus believes that the judge was biased against her because
she was nursing
, and is appealing his ruling. She says that at a prior hearing a week and a half ago, the female judge didn't have a problem with her
decision to breastfeed
in court.
"[Knight] had no interest in what I was telling him," Rhodus says.
She will be back in court on April 19.