Bret Michaels
ended a concert in New Hampshire after suffering a medical emergency on Thursday.
Guitarist Pete Evick says on Michaels's Facebook page the former Poison frontman was three songs into his set in Manchester on Thursday when he rushed from the stage.
A crew member says Michaels's blood sugar was extremely low. The singer was
diagnosed with diabetes
as a child.
Evick says Michaels returned to the stage, telling fans he couldn't continue performing and when he went to the band's bus to check on Michaels, "he could barely speak, but begged me to apologize to the fans."
In a statement posted Friday afternoon on Michaels's
Facebook page
, his team explained that the singer was "violently ill" after he left the stage and was rushed by ambulance to hospital, where doctors determined he was suffering from insulin shock and severe low blood sugar combined with "exhaustion/dehydration/fever and the novo flu virus."
Michaels had to cancel Friday's performance in Wilkes-Barre, Pennsylvania, and is hoping he will be well enough to perform in Albany on Saturday.
On Twitter and Facebook, Michaels's team thanked paramedics who helped him.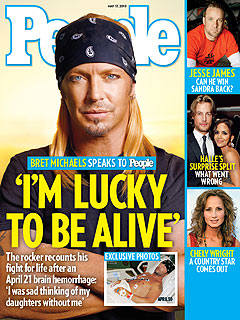 In 2009, the rocker was
performing at the Tony Awards
when he was hit in the head with a set piece.
He suffered injuries that he claimed contributed to a
brain hemorrhage that nearly killed him
.
How Many Bandanas Does Bret Michaels Own?