Britney Spears
is ready for her renaissance!
With the clock ticking down to the release of her ninth studio album, the 34-year-old pop icon opens up about the direction of her
new music
– "It's not what you would think at all," she teases – and independent spirit in the cover story of
V magazine
's 100th issue.
Spears comes full circle in her sexy shoot with photographer
Mario Testino
, marking a milestone not just for herself but also the magazine: as diehard Spears stans will recall, her first
V
interview coincided with its first year of publication and her rise to fame in 1999.
Seventeen years later, Spears shows off her
hard work at the gym
and on stage at her
revamped Las Vegas show
– just look at
those abs
– in three stunning covers featuring a shirtless male model. Read on to get a preview of the piece, which hits newsstands March 8.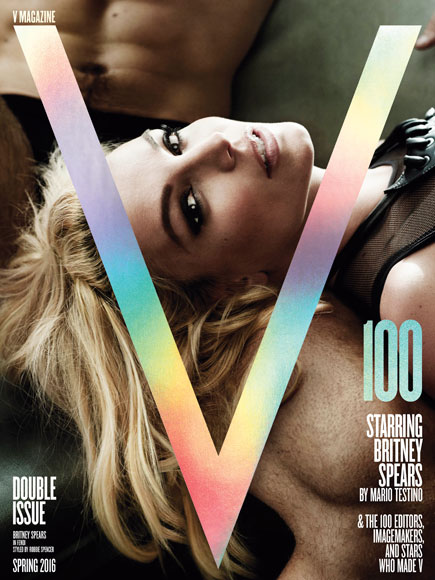 Mario Testino / V Magazine
On her forthcoming album, which is expected to drop this year
: "Honestly, I'm just particular with this record. It's my baby, and so I really want it done right. I would much rather have it be completely how I want it to be, whether that takes another year for me to do, or two months. I have no idea at this point. But I just know that the direction I'm going in is so good. It's the best thing I've done in a long time. I'm proud of the work, and it's very different; it's not what you would think at all. But I'm not rushing anything. I just want it to be done right, so that my fans will truly appreciate it."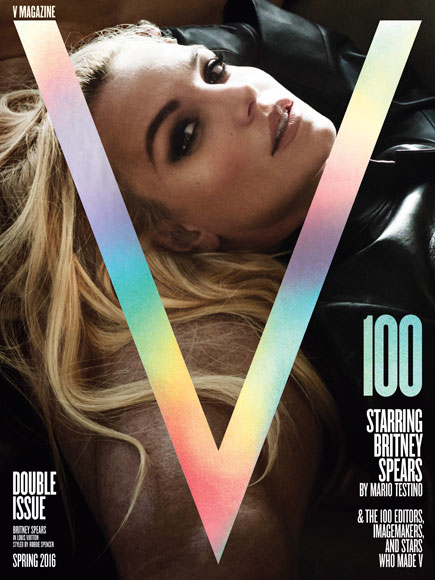 Mario Testino / V Magazine
On prioritizing real life over the digital world
: "Honestly, I still don't use my computer," Spears told the magazine with a laugh. "My kids use the computer more than I do! I understand that a lot of people are into it, and I have days where I write and stuff, but it's really not for me. It's not my thing."
On ignoring what people say about her
: "Whoever is in the spotlight, people are really quick to judge. I mean, there are a lot of kids coming up who've experienced that. You know,
Justin Bieber
, he's huge, and he experiences that. It's just the way the world works, unfortunately. I've been doing this for 20 years. I kind of don't pay attention to it. I have my relationship with God and myself and that's what matters to me. I really don't care what most people think."