Camille Cosby, Bill Cosby's wife of 52 years, wrapped up a second - and final - day of testifying under oath about her entertainer husband for a
defamation lawsuit
filed against the entertainer by seven women who have accused him of sexual assault.
"I think went fine, we did what we needed to do which was to get at the truth of certain information and we accomplished that," said Joseph Cammarata, an attorney for the plaintiffs, standing outside the offices of Cosby's attorneys in downtown Boston.
One of the plaintiffs, Therese Serignese, was present during the deposition, Cammarata said.
Cosby's attorney Dan Small, of Holland & Knight, where the deposition was held, addressed the crowd of reporters with a statement on behalf of Camille and Bill Cosby.
"We spent an additional five hours today proving what plaintiffs' lawyers knew from the beginning: Mrs. Cosby has no, relevant, admissible evidence to offer in this case despite the improper purpose of the deposition," Small said.
"Thanks to the court's rulings limiting the worst of the plaintiffs' abuses Mrs. Cosby got through today in a dignified and productive fashion. We are very pleased that the day is over and that this distraction is now behind us."
Cammarata expects that today was the conclusion of Camille Cosby's deposition. A judge granted Bill Cosby's request to have his deposition be put on hold, due to Bill Cosby's
pending criminal case
, Cammarata said.
Cammarata described Camille's testimony as a "building block" in the case he is building for his clients.
The
first part
of the deposition took place in February at the Springfield, Massachusetts, Marriott, where Camille was questioned by Cammarata.
The deposition took place in Massachusetts because the Cosbys are Massachusetts residents, with a home in Shelburne.
After the first part of Camille's deposition in February, when asked what he hoped to gain from Camille's testimony, Cammarata said that she is Cosby's "wife, she lives with him, understands the nature of his relationships." He added: "She can observe things. She is a living, breathing human."
He said he hopes that Camille's observations will help a jury decide if Cosby "is a truth teller."
Cammarata had said he seeks to glean insight from Camille about "issues important to the case" and about the entertainer's "relationship to her, to other women."
"I think her testimony is significant," he said.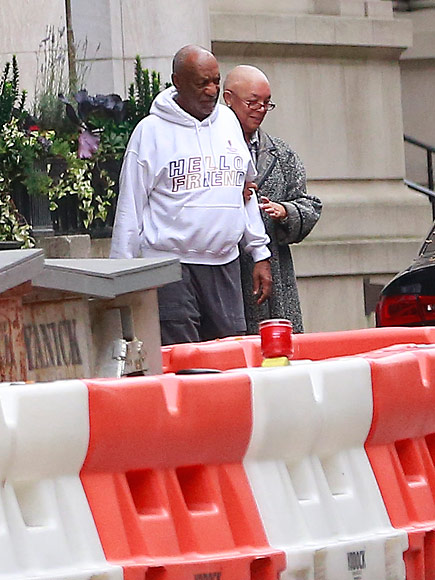 TheImageDirect / FameFlynet
•
Want to keep up with the latest crime coverage? Click here to get breaking crime news, ongoing trial coverage and details of intriguing unsolved cases in the True Crime Newsletter.
Camille Cosby had
repeatedly sought
to postpone or end the deposition. A court filing by her lawyers claims lawyers asked her "improper and offensive questions" about her "sexual relations," her political commentary and the 1997 death of the Cosbys' son, Ennis.
Last week a U. S. magistrate judge
ruled
that the deposition would continue but that the types of questions would be limited, including a prohibition of questions involving protected communications between spouses.
"We're not going to have a repeat of some things that happened" during the first day of the deposition in February, U.S. Magistrate Judge David Hennessy said. "I can assure you. We're not going to have questions like, 'Were you asleep when you had sex with your husband.' You will follow the rules."
The plaintiffs in the defamation lawsuit are among about 50 women who claim Bill Cosby drugged and/or sexually assaulted them. Cosby has steadfastly denied all the allegations.
Currently, Bill Cosby, 78, faces charges in a Pennsylvania criminal case. On December 30, newly elected Montgomery County District Attorney Kevin Steele
charged Cosby with aggravated indecent assault
for allegedly drugging and sexually assaulting former Temple University employee Andrea Constand, now 43, at his Elkins Park, Pennsylvania mansion.
Bill Cosby's criminal attorneys filed an appeal earlier in April to the Pennsylvania Superior Court asking for the case against Cosby to be dismissed. Cosby's attorneys say
former Montgomery County District Attorney Bruce L. Castor Jr.
promised Cosby he would never be prosecuted in Andrea Constand's case in return for cooperating in her civil suit against him.
The criminal case is on hold
until the Superior Court rules on Cosby's motion.
WITH REPORTING BY NICKI EGAN