Three weeks after
René Angélil died from cancer
,
Céline Dion
returned to The Colosseum stage at Caesars Palace in Las Vegas to honor her late husband.
"This is my home away from home," a tearful Dion began Wednesday night. "At the same time I'm supposed to feel extremely comfortable being home, and right now I'm not sure how comfortable I feel."
Dion then thanked those who had paid tribute to Angélil throughout the night. "I feel his love in this room," she said. "I feel his strength and his warmth being reflected in all of you. René always surrounded me with the best people who believed in us and always worked so hard on our behalf."
Towards the end of her speech as emotions ran high, a visibly choked-up Dion said through tears: "On behalf of my family, thank you again for being here with us this evening for this beautiful tribute to mon amour. René I love you, so much, merci, good night."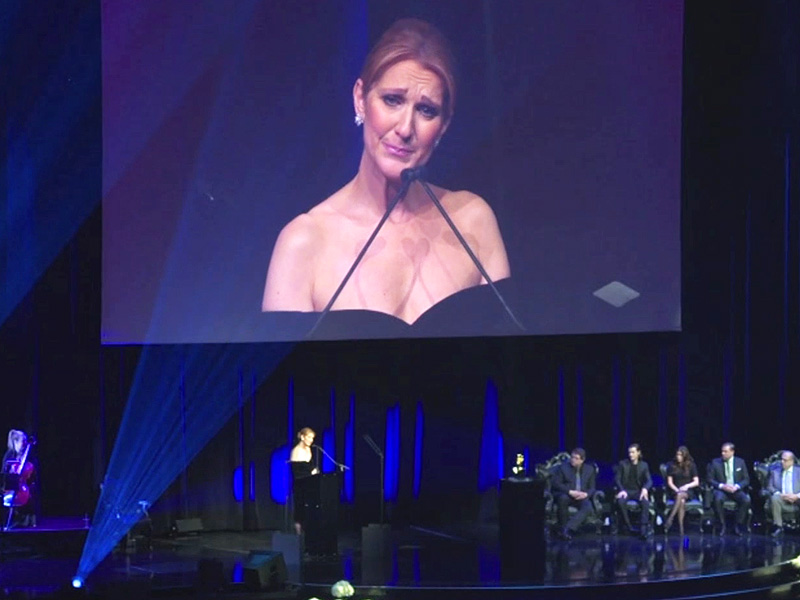 KRIS LINGLE-GRIFFITH / SPLASH
Colleagues, friends and family – including Dion's son René-Charles, as well as Angélil's children from former marriages, Patrick, Jean-Pierre and Anne-Marie – gathered at the Vegas venue to reminisce on the late music manager. Dion somberly reflected throughout most of the night, often smiling and laughing as the 15 speakers shared stories of her husband's love for food and gambling.
The singer let her guard down, though, grabbing a tissue to wipe her tears when longtime friend
David Foster
took to the piano to perform "The Color of My Love," which includes the lyrics: "I offer what you cannot buy / Devoted love until we die."
Dion and Angélil's love story was in the spotlight at the memorial, as speakers shared memories of their romance. And a symbol of their undying love was present onstage all night.
Before Dion would take the stage in Vegas – where she started performing in 2003 – she and Angélil would always hold hands. But as her husband's health deteriorated, he eventually was unable to be present for their ritual – but the couple once had bronze casts made of their hands, so when Angélil was too sick to go to his wife's shows, she still had a hand to hold before performing.
The cast stood onstage at the memorial, where speakers touched it, then, at the night's end, Dion and close family huddled around it, holding it one last time before they waved goodbye to an oversized photo of Angélil as they exited stage-left, a position from which the music manager would often watch his wife perform.
On Friday, Dion
expressed her gratitude
for her fans' support over the last couple weeks. "My family and I are deeply touched by the outpouring of love and support from so many people who have touched our lives during these past few days," she wrote on
her website
.
"We have felt your love for René, and your prayers and compassion have helped us during this most difficult time… more than you'll ever know. I thank you from the bottom of my heart," she continued.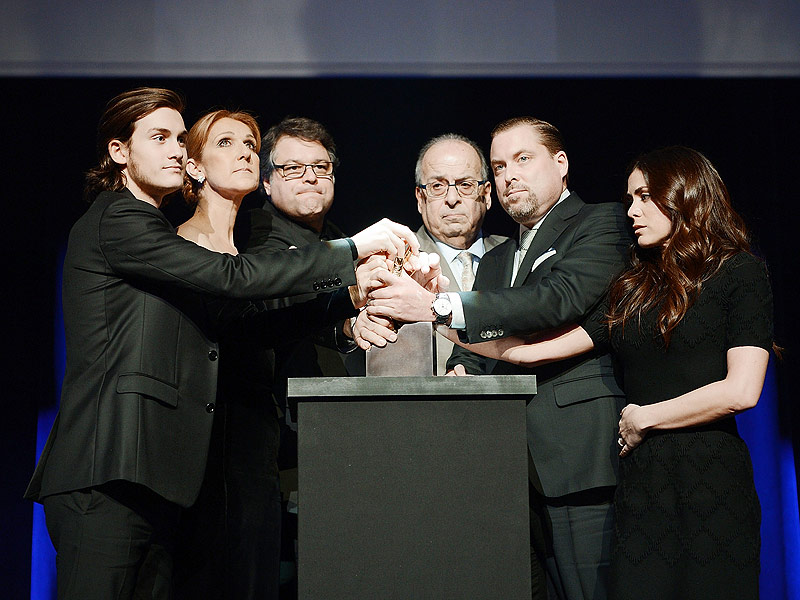 Denise Truscello / Caesar's Palace via Getty Images
The singer – who
lost her brother
Daniel days after
Angélil's death
– first met the music manager when she was 12 years old.
Angélil helped guide her to superstardom, and the two were partners professionally and
personally until
his death on Jan. 14.
•
Reporting by MARK GRAY