Charlize Theron
fell in love when she least expected it.
"I wasn't in any place that I even wanted something like [a relationship]," the Oscar-winner tells
Esquire U.K.
of her
burgeoning romance
with
Sean Penn
.
"Then one day you go: Oh, [my son Jackson's] almost two now … and you have more time again. And it's like if you are open to something, if you just let it happen, it will happen. When you least expect it."
Continues Theron: "It was nice to be single and now it's nice to be not single."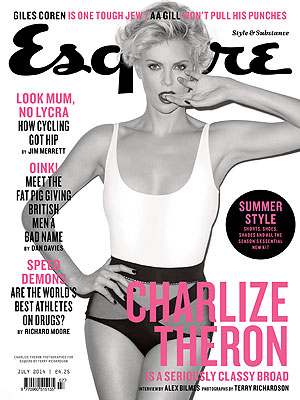 Terry Richardson for Esquire
While the actress, 38, now starring in
A Million Days to Die in the West
, says she may not have planned on a relationship with Penn, 53, she always knew she would
adopt a child
.
"I was like, 'Ah, finally!'" she says of adopting Jackson when he was nine days old.
Although Theron says that some people "would never want to have" her life, she admits, "My life is really good."
"I am living my life in a way that if tomorrow it ended – and I hope not because I have a kid – but if it did, this was the life that I really wanted to live."
Says Theron: "A life is good if it's the life that you want."
Charlize Theron's Changing Looks