Demi Lovato
's lyrics are meaningful for a lot of younger music fans, but the pop star hopes the lessons she's learned in her 21 years resonate even more.
"When you turn 21 the first thing you think about is alcohol," Lovato tells
Cosmopolitan for Latinas
, which named her its "Fun, Fearless Latina of the Year." "I want to change that."
Continues Lovato: "I have fans that are going to turn 21, and I want them to know that there are other ways you can celebrate, not just by poisoning yourself and getting yourself into trouble or getting hurt and then going to the hospital, or even just wasting it on drinks when you could be doing stuff for others or celebrating the fact that you made it to 21 years alive."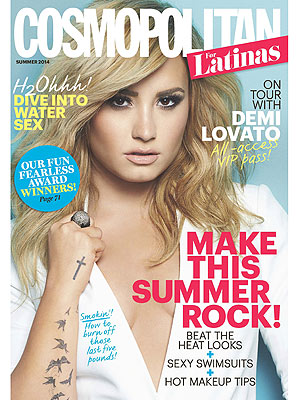 The "Neon Lights" singer and former
X Factor
judge has overcome many obstacles in her 21 years – including a
daily battle with bipolar disorder
,
bulimia
,
drug abuse
,
self-mutilation
, rehab and a
nervous breakdown
– but she hopes her honesty about her past will help fans make good decisions in their own lives.
"I look at my past and I think, 'Okay, it was fun at the time, but looking back I don't remember a lot.' I had birthdays where there were a ton of people and everyone was drinking and going crazy," she says. "None of those people are still in my life today. Because they didn't care about me and … I didn't really care about them – I just wanted to party."
Lovato especially wants young girls to accept their flaws and feel "beautiful."
"For me, loving and accepting my flaws … Being comfortable in my own skin also makes me feel beautiful," she says. "For most people, growing up and all the changes you go through physically and emotionally are not easy. I can say the same for myself."
Related Video: Demi Lovato Opens Up About Cocaine Addiction