It is rare to see women with disabilities photographed for magazines and advertisements at all – let alone in a swimsuit.
However, several women with varying disabilities and unique personal backstories proudly posed for photos in their bathing suits. They shared how they gained the confidence to wear them on the beach and by the pool as part of Refinery29's Take Back The Beach initiative.
Caxmee had her right leg amputated after being diagnosed with a severe form of bone cancer in 2005.
"Before this whole ordeal, I used to go to the beach and the swimming pool, but I still remember having body insecurity," the program manager, 26,
told the site
. "After my surgery, the way I looked at myself was even worse, because I tried to hide my body as much as possible. I would look at other people's bodies and be almost ashamed of mine."
Caxmee says she eventually "forced [herself] to be comfortable," and began working as a body-positive advocate.
"I'm trying to get other people comfortable in their bodies, no matter what they're going through," she said. "And I just feel like the beach is always a moment for me to walk the walk and practice what I'm preaching."
Danielle Perez had to be amputated below the knee after being hit by a streetcar while crossing the street in San Francisco when she was 20.
RELATED VIDEO: See Ashley Graham, Ronda Rousey and Hailey Clauson's unprecedented 'Sports Illustrated' Swimsuit cover
"I'm not really concerned about what other people think or what they're looking at or the questions that they have. I'm there to enjoy the company of my friends," she said of going to the beach, but says having to bring a wheelchair makes the process a hassle, so she mostly goes to pools now.
"I think I made a conscious decision when I lost my legs that I just was going to ignore people looking at me strange," the comedian, 31, continued. "There's already so much energy that it takes to get through the day that I don't want to waste any of it thinking about what other people are thinking of me."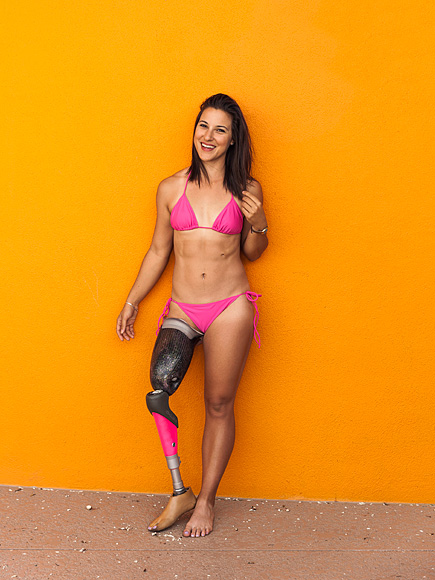 Lacey Henderson had her amputation after being diagnosed with cancer at the age of 9, and has been in remission ever since. The 26-year-old is now a professional long jumper for the U.S. Paralympics team, thanks to the encouragement of her family.
"I come from an athletic family," she said. "My dad went to Olympic trials for pole vault and was a two-time decathlete national champ. I have a brother who is a year older than me, so I grew up playing around with him. I don't know if my family was really awesome or really mean, but they were like, 'You've got to keep up with your friends and your brother. You'll figure out a way.' "
Henderson said getting cancer at such a young age made her grow up with different priorities, so self-consciousness about her appearance in a swimsuit was not a big issue for her.
"The bigger question for me wasn't what my body looked like or how it appeared. The bigger question was how it was functioning and maintaining its health," she explained. "I was able to have that be the main focus, which I think is a hidden blessing."