When Al Kovach was a Navy SEAL and broke his neck in a parachute accident in 1991, his life changed forever.
And he couldn't have imagined that, more than 20 years later, he would be at the
American Veterans Disabled for Life Memorial
in Washington, D.C., which opened Sunday with thousands of people in attendance, including
President Barack Obama
, who spoke during the ceremony.
"A lot of veterans feel like they're wearing their scars and that no one else understands," Kovach, 41, tells PEOPLE. "This memorial is going to educate people and make it easier for them to engage with disabled veterans."
Kovach, who is in a wheelchair, has since gone on to become national president of
Paralyzed Veterans of America
and is a two-time winner of the Los Angeles Marathon.
"This memorial isn't to grieve about people who have passed away," he says. "We are very much alive."
The first memorial in the United States for disabled veterans, it spans across 2.4 acres and sits 1,000 feet from the U.S. Capitol.
The driving force behind the idea for this memorial comes from a woman who has no actual ties to the veteran community.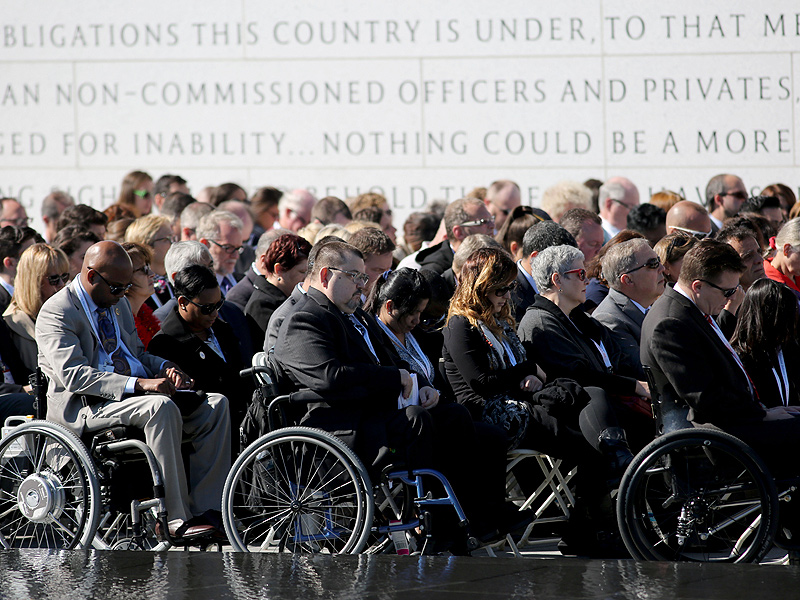 Sammy Dallal / Invision / AP
Lois Pope, 81, was a Broadway singer in the 1960s and went to Rusk Rehabilitation in New York City to sing to recovering Vietnam veterans.
"I walked into a room with men lying on gurneys, and some of them were burned so badly they were unrecognizable," she says. "It was unreal."
The piano started playing, and she nervously started to sing "Somewhere" from
West Side Story
.
When she sang the line, "Hold my hand and I will take you there," she reached out to hold a young soldier's hand.
"But he had no hand for me to hold," Pope says.
That was the first of many lasting impressions that would lead Pope to decide she wanted to create a memorial for
disabled veterans
.
What started off a passion project soon became an obsession.
As one of the country's leading philanthropists, Pope donated $10 million herself and helped raise the rest from private donations to reach the $80 million they needed over the last 16 years.
When Pope started to reach out to people years ago to help her create the memorial, she was introduced to Art Wilson, head of the Disabled American Veterans.
"It's been a long time planning," Wilson says. "But it's here now, and it will be a quiet space for strength and vulnerability."
Pope, Wilson, and then-Secretary of the Department of Veterans Affairs, Jesse Brown, created the Disabled Veterans LIFE Memorial Foundation in 1998.
In 2000,
President Bill Clinton
signed a bill authorizing the memorial.
"It's about time we thank these unsung heroes," Pope says.