While teens were flicking through racks of taffeta and tuxes for prom looks at department stores and stylish boutiques, Kechantra Ward, 17, and Jeffery Patton, 16, of Senatobia, Mississippi, were taking trips to the hardware store. Instead of picking out the normal formal wear, this pair made their own end-of-year dance apparel out of duct tape, reports
My Fox Memphis
.
The two high-schoolers used 28 rolls of duct tape to create their blue-gold-and-black outfits, and they spent 102 hours putting all the sticky stuff together. Ward says the couple's impressive final product was inspired by the grace of figure skating and the intricate design of antique keys.
Ward and Patton's hard work wasn't done just to turn heads at Senatobia High School's prom. The students also
entered their creations
into the
14th Annual Duck Brand Stuck at Prom Scholarship Contest
. Each year, the competition invites high-schoolers to send in photos of their duct-tape prom creations for a chance to win college scholarships.
Along with Ward and Patton, nine other couples have reached the final round of the contest, which had over 150 entrants. The winning duo will be decided by public vote. Voting is currently open until July 8.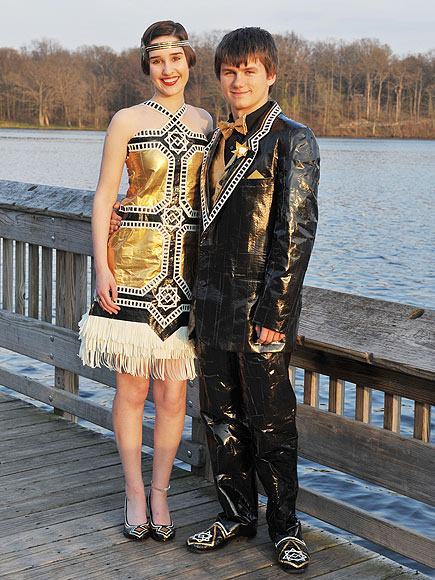 The couple with the most votes will receive two $10,000 scholarships – one for each person – along with $5,000 for the school that hosted their prom. You can help decide which duct-tape prom pair wins by voting for your favorite at
Stuckatprom.com
.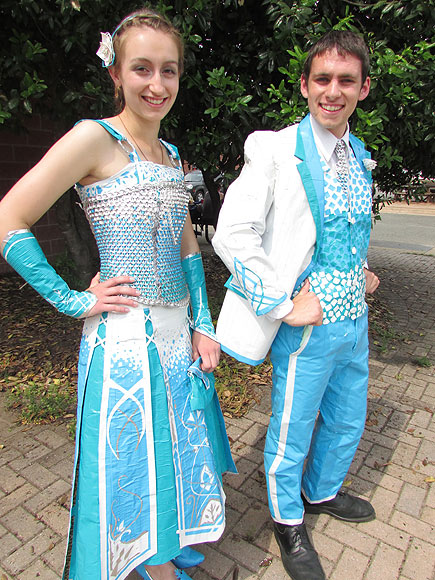 Like us on Facebook for more stories like this!