The Colorado woman who
cut a fetus out of a pregnant
stranger has been convicted on charges of attempted first-degree murder, assault and unlawful termination of a pregnancy, according to
multiple reports
.
Dynel Lane, 35, was found guilty on Tuesday after a seven-hour, two-day deliberation by a Boulder County, Colorado, jury, reported the
Denver Post
.
Lane was convicted on all six felony counts, and ordered to be held without bond until sentencing on April 29,
reported Colorado's KUSA
.
Prosecutors told the
Post
that Lane, who plead not guilty, could face up to 110-120 years in prison and a minimum sentence of 16 years.
Lane
stabbed and choked
seven-and-a-half-months pregnant Michelle Wilkins last March after the expectant mom answered a Craigslist ad for free baby clothes. She cut the baby out of Wilkins' womb, then later
arrived to the hospital
claiming that she'd miscarried the dead fetus.
•
Want to keep up with the latest crime coverage? Click here to get breaking crime news, ongoing trial coverage and details of intriguing unsolved cases in the True Crime Newsletter.
Prosecutors said that prior to attack, Lane faked her pregnancy for a year.
During the trial, Wilkins
took the stand
to recount the attack, in which
a doctor said she lost half her blood
.
"After she broke the bottle over my head and stabbed me and she was trying to choke me, I remember thinking of Aurora and feeling like … I just thought of her and I wanted to survive for her. So I fought back harder,"
Wilkins testified
.
While Lane never took the stand, a 50-minute recording of her conversation with police after the attack was shared in the courtroom in which Lane said that Wilkins attacked her first.
Defense attorneys had argued that Lane's actions were not premeditated. In her opening statement, defense attorney Jennifer Beck said, "What happened on March 18 was hasty, impulsive and reckless. But it was not the result of deliberation. She did not intend to kill Michelle Wilkins. She did not plan, process or prepare on how to take her baby and pass it off as her own."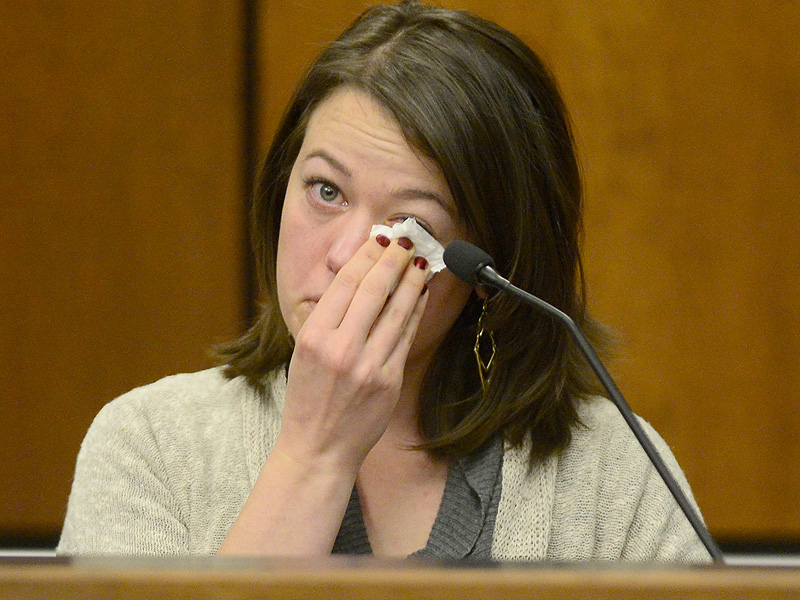 Matthew Jonas / The Daily Times Call / AP
Wilkins told reporters after the trial that she does "not hate Dynel, but I am angry for all the pain that she caused," according to the
Post
.
She added that the verdict was "a triumph for justice."