At first glance, Eliza O'Neill looks and acts like a typical 4-year-old girl – except that with every passing day, she is slowly losing her ability to speak, eat and walk.
"There is no doubt that she is starting to show symptoms," her dad Glenn, 41, tells PEOPLE. "It's getting hard for her to focus, and at times it's difficult for her to speak."
Since Eliza's diagnosis in July 2013 with
Sanfilippo syndrome A
– the most severe form of the rare genetic disorder – Eliza, along with her family, are racing to
meet their deadline of raising
$2.5 million for a clinical trial that could possibly save not only her life, but also the lives of other children suffering from the disorder.
When PEOPLE first wrote about the O'Neills, they needed to raise
another $1 million
by the end of the year.
They now need an additional $650,000 or else the trial, which would take place at
Nationwide Children's Hospital
in Ohio, may not proceed as planned.
"Our life now is about saving Eliza," says Glenn, whose wife Cara, 39, has had to leave her job to stay at home. "We can't just sit back and wait for her to die."
By the age of 5, their spunky and playful daughter could have irreversible neurological damage that will then lead to death.
But the South Carolina couple are doing everything in their power to give their daughter a shot at not just surviving, but thriving.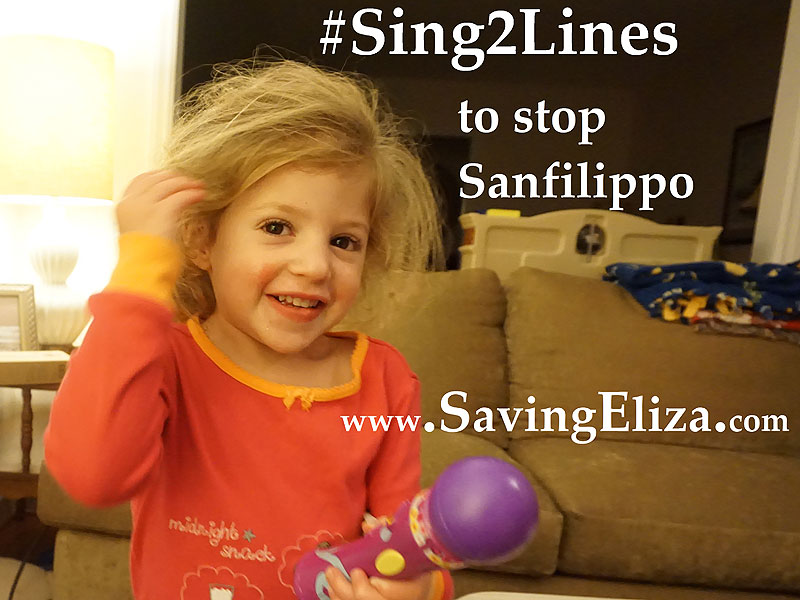 Because Eliza loves to sing and will soon lose her ability to do so, they have launched a new campaign focused on singing a song.
Similar to the
ALS Ice Bucket Challenge
, the O'Neills are challenging people to #Sing2Lines of any song on video and then tag five friends on Facebook to do the same.
So far, thousands of people have completed the challenge, which has raised $75,000.
Actress
Andie MacDowell
has
taken it
, and country music singer Wynonna Judd
has Tweeted
about her interest in it.
"We need to get more people to do this," Glenn says. "Or it will be too late."
At home, the O'Neills stay hopeful but are taking extreme measures to keep Eliza safe.
They have only left their home a handful of times in the last four months because they're afraid Eliza will get sick and not be a great candidate for the trial.
"Eliza is going to get the medicine at Christmastime," her brother Beckham, 7, tells his parents. "It will be her Christmas present."