It was a case that has perplexed authorities for more than 6 years.
In December 2009, Elizabeth Johnson was embroiled in a bitter custody battle with her ex, Logan McQueary. She fled her Tempe, Arizona home with their 8-month-old son, Gabriel. They were spotted at a San Antonio motel on December 26, 2009.
That was the last time Gabriel was seen. When police finally caught up with Johnson in Miami, Baby Gabriel was nowhere to be found.
A jury convicted Johnson of unlawful imprisonment, custodial interference and conspiracy to commit custodial interference. She was sentenced to 5 years in prison, but was released early in July 2014 for good behavior and was ordered to serve four years of probation.
But earlier this week, Johnson was arrested for alleged violations of her probation, including associating with someone who has a criminal record, leaving the state without permission, and failing to report a speeding ticket. She has been returned to Arizona, where she sits in jail without bond. A hearing is set for April 14.
"They're very minor violations," Johnson's attorney, Marc J. Victor, tells PEOPLE. "She was doing really well on probation. She was in school full time, and she was working full time. She owns property now. Her goal is to get back to her life."
An Ongoing Mystery
A judge will decide next week whether to return Johnson to jail, but the larger question remains unanswered: Where is Baby Gabriel?
Before her 2009 arrest, Johnson sent a disturbing text message to McQueary claiming that she had killed Gabriel. Alarmed, McQueary says he called Johnson for more information.
"She told me that she suffocated him, put him in his diaper bag, and threw him a dumpster," McQueary told PEOPLE in 2010. "I yelled at her that I didn't believe her. I was shaking all over."
Based on these conversations, investigators conducted a massive search of a Texas landfill. At least 20 investigators and several cadaver dogs combed the landfill, digging through as much as 45 feet of garbage in an attempt to find any trace of Gabriel. After a 16-day search, authorities found nothing.
And then, Johnson's story changed.
In the days following her arrest, she told police that she had given Gabriel away to strangers in San Antonio so he could be with "a real, loving family." She never identified the couple – and has stuck to the story ever since. During her trial, prosecutor Angela Andrews claimed in court that her office was willing to set aside its recommendation of imprisonment if Johnson would simply reveal where Gabriel was.
While Johnson never responded to Andrews' offer, she did say that she didn't know Gabriel's whereabouts. "I have to live every day without my son and without knowing where he is," she said at her sentencing hearing in 2012. "That is the worst pain and punishment I could ever have."
Johnson's attorney says that they still don't have any answers. "She doesn't have any information beyond what she told police," says Victor. "Nothing has changed."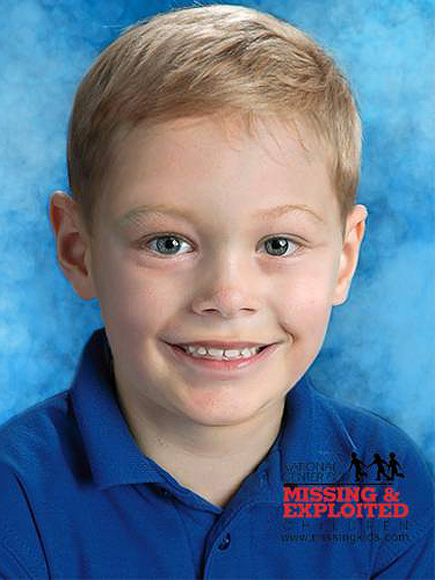 National Center for Missing & Exploited Children
Baby Gabriel Today
If Gabriel Johnson is still alive, he's nearing his 7th birthday. Over the years, the National Center for Missing and Exploited Children has released age-progressed photos to show what he might look like today.
The uncertainty has been excruciating for McQueary. "What Elizabeth has done has not only robbed me, but my friends and family," he said in her sentencing hearing. "Her actions hurt and changed people and their lives forever, and I think she should be held accountable for her actions."
Anyone with information is asked to call the FBI at (210) 225-6741 or the Tempe Police Department at (480) 350-8311.