She was the kind of grandmother who liked to snuggle, watch movies, and try on jewelry says
Elizabeth Taylor
's granddaughter, Laela Wilding, and when your grandmother is a screen legend with a famous jewelry closet, accessorizing means trying on the famous 33.19-carat Krupp diamond.
What Wilding remembers the most, however, was Taylor's heart. "Her heart was huge," says Wilding, 45. "She had such a huge impact with her activism and she was so full of life and love. She made a big impact on us."
In this week's PEOPLE, which features rare and never before seen pictures from photographer Firooz Zahedi's new book
My Elizabeth
, Wilding shares her memories of the loving grandmother who inspired her with her work on behalf of people with HIV and her foundation,
The Elizabeth Taylor Aids Foundation
.
"Continuing her legacy is important for to us," she says. "She really wanted to break down stigma. She was independent and strong and courageous and did things for others in big ways and small."
"I remember how we'd lay on the bed in the bedroom and just talk," says Wilding. "Just snuggling and chatting and eating lunch and watching movies. We'd take a trip to the jewelry closet and she'd open up the drawers and talk about the pieces, who gave them to her. We'd hang out and put lipstick on – she had all the colors. We'd chat about boys and dating and I would paint my toe nails."
"She wanted to know what was going on in our lives," she says. "My sister [Naomi Wilding] lived with her for a while and Grandma always wanted to see our outfits and she'd say 'Try those earrings on' or 'Put these on for tonight.' "
"Family was number one for her," she says. "We had a family where we all loved one another – her children and her grandchildren and it comes from her — her desire to bring us all together."
Wilding and five of Taylor's grandchildren will be in Washington, D.C., on Monday to attend
AIDSWatch
, the nation's largest annual constituent-based HIV/AIDS advocacy event. "Her grandchildren are deeply inspired to continue her activism," says Wilding, who is also bringing along her son, Finn McMurray, 17.
For more on Elizabeth Taylor, pick up the latest issue of PEOPLE, on newsstands now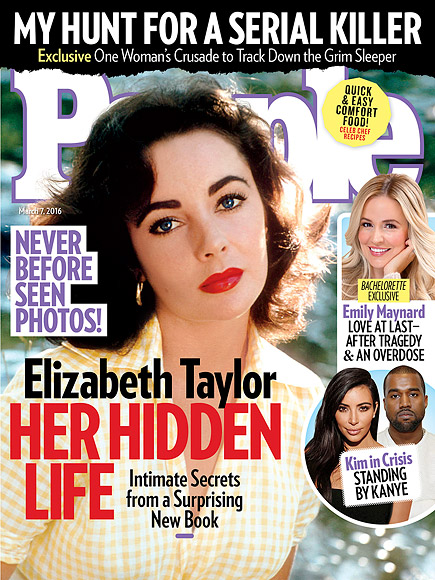 Looking back, she says, "I remember her strength and her courage and her activism. Helping others who needed someone to recognize them and fight for them. I think that was also the source of her relationships with her leading men like
Montgomery Clift
and
Rock Hudson
and
James Dean
, as well as
Michael Jackson
. She sensed their neediness. She wanted to take care of others and that motherly energy infused all of her relations. It doesn't mean she got up to make our breakfast. She didn't."



"There was a real tenderness and vulnerability to her," she says. "In that way, she had the soul of an artist. She was sensitive and a good listener. You could cry on her shoulder and tell her anything. And she was a really good hugger."

One of Wilding's fondest memories is how the star kept their homemade gifts by her bedside, among her most treasured mementos. "My sister and I would always ask ourselves, 'What should we get her? You know, Michael Jackson is going to give her a ring so what are we going to do?' " she recalls. "We made her things, like handmade books, and she kept them by her bed, next to her Faberge eggs. She loved them equally."