Emilia Clarke
has some advice for her 18-year-old self – that all women can appreciate.
The star of the upcoming film
Me Before You
talks her younger self through major life moments, including relationships, dreams and
body image
.
"18-year old Emilia, I'm going to quote
this Sunscreen song
at you, I know you know it. You are not as fat as you think you are," Clarke says in a
video for Teen Vogue
.
"There are some women who look some way, and there are other women who look another way. Like a whole other way. And the way that the other women look, people love. Because they look like women."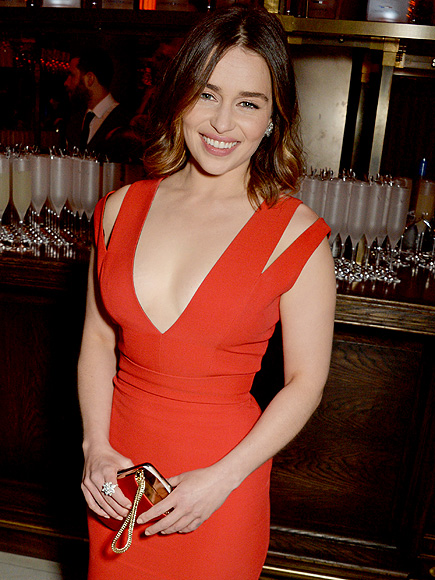 Clarke, who is a devoted fan of
the Clean and Lean diet
, clearly has a greater love for her body now at age 29 than she did at 18.
Clarke also referenced the tough time she had getting her big break as an actress. Other than two small TV roles, she didn't land
Game of Thrones
until 2011, when she was 24.
"There are going to be times when someone says, that dream that you've had, your entire life, the moment that someone says that's impossible, it is," she says. "I know you didn't get into drama school this time around, but, you will. You have the strength to overcome it."
And when it comes to dating, Clarke, who previously dated
Seth MacFarlane
and
Jai Courtney
, now understands the pain of breakups.
RELATED VIDEO: Game of Thrones' Finale Shocker: Will This 'Death' Stick?
"You're going to feel some serious heartbreak," she says. "You're going to feel some proper things, and the reason why it's going to hurt so much it's because, that heartbreak is going to make you doubt yourself. You put yourself out on a plate, and you bare everything, and someone says that they don't really like that, so that makes you feel like you're not worth it."
"But you are, and there are lots of people who are going to tell you that you're worth it. The people in your life when all the lights are off, the real people you really love, just hug them like everyday."
And the
Game of Thrones
star, who filmed the video in October, has one last piece of advice:
"Little Emilia, I'm just going to say that it's autumn right now, but winter is coming."