The $55 million award
Erin Andrews received in her civil trial
over a secretly recorded nude video taken of her is a victory not only for Andrews but for all sex crime victims, an anti-sex crime advocate tells PEOPLE.
Angela Rose, founder and executive director of PAVE: Promoting Awareness, Victim Empowerment, a nonprofit that works to prevent sex crimes and help survivors, tells PEOPLE that the reward is worth more than money.
"The exposure [of the award] is priceless. It gets the nation talking about [sex crime] issues. At the end of the day it raises awareness, and I really applaud her courage for standing up," Rose says.
Rose, 37, who started PAVE fifteen years ago at the University of Wisconsin-Madison, is a survivor of sexual assault. In 1996, she was
kidnapped at knife point
at an Illinois shopping mall and sexually assaulted by a repeat sex offender.
She tells PEOPLE that most people can't fathom what Andrews is going through.
"I think that you don't know until it happens to you. You don't know what it's like to know millions of people have seen [your] body. It's a violation and I think until you really know what it feels like, you can't judge," Rose says.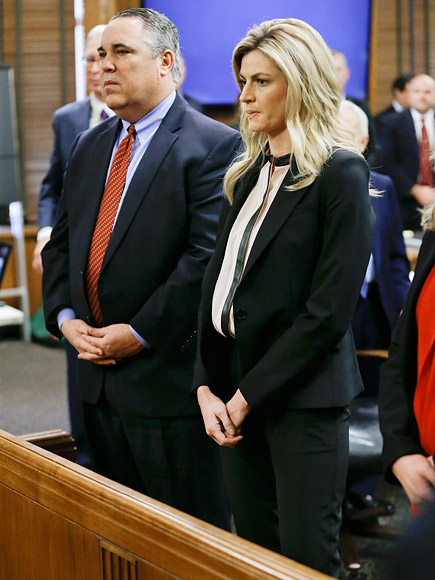 Last week, Andrews, 37,
testified in a Nashville courtroom
in her $75 million suit against the man who secretly filmed her and companies that manage the Nashville Marriott, where she was filmed in her room. She said she has experienced anxiety and depression since the video, taken in 2008, went viral the next year. She testified that she spontaneously cries and sometimes has trouble sleeping.
A psychologist testified
that Andrews has mild post traumatic stress disorder.
Describing her initial shock,
Andrews testified
, "It was everywhere ... my naked body was on the front page of the
New York Post.
"
She said that she still gets tweets daily with images from the video, and that people still mock her from the stands during games.
Asked if she feels hopeless, she said, "I feel like I'm on an island all by myself."
"It's on the Internet now," she said. "And I've been told it's going to be on the Internet until I die."
•
Want to keep up with the latest crime coverage? Click here to get breaking crime news, ongoing trial coverage and details of intriguing unsolved cases in the True Crime Newsletter.
Advocate: Andrews, Like Other Sex Crime Victims, Got Blamed
Andrews said on the stand that
some people think she engineered the video
as a publicity stunt. This is consistent with Rose's statement that in many instances, victims of sex crimes get blamed.
"It's difficult for people to grasp [sex crimes]. Sexual assault and harassment are unlike any other crimes. So often the survivor is blamed," Rose says.
Rose believes many people were incredulous about the amount of money Andrews sued for because they don't understand what victims go through.
"They think she asked for too much money and she's fine, but no one knows except Erin the emotional toll that that took on her," Rose tells PEOPLE.
A source tells PEOPLE that
Andrews has been spending time with her family
since the trial. She will co-host
Dancing with the Stars
, which premieres on March 21, alongside Tom Bergeron.
Rose says spending time with loved ones is vital for survivors, especially after going public with their victimization.
"Self care is so important. [Seeking justice] is very emotional and a lot of people don't even realize the backlash you receive when you speak out in public about something very personal."