A gloomy day in Chanhassen, Minnesota, turned even more somber when legendary musician
Prince
died
unexpectedly at home Thursday, sending grieving fans streaming toward his fabled
Paisley Park
estate in mourning.
"His music is the soundtrack of my life, from being a kid to getting married to getting divorced to getting different jobs," Jeff McCullough, 55, told PEOPLE. "I just can't believe it. I haven't been to many concerts here lately because I'm getting older and you have to sit and wait for hours. This is one of the saddest days of my life."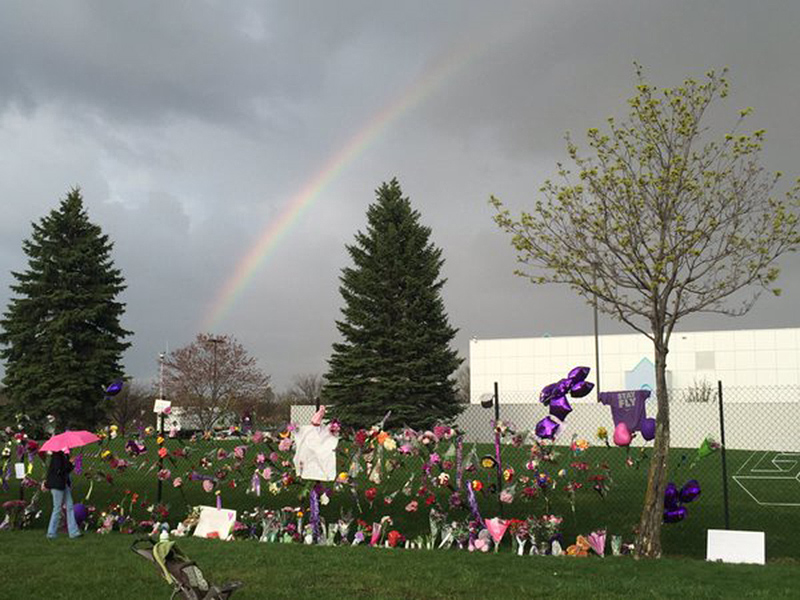 The
private singer
was
found unresponsive
in an elevator at his estate on Thursday around 9:45 a.m., after sheriff's deputies received a call from the home asking for medical attention. Less than 25 minutes later, Prince was pronounced dead. He was 57.
Fans putting flowers in fence outside #PaisleyPark after #Prince found dead this morning at age 57. @KSTP pic.twitter.com/p3InRh7vJC

— Jessica Miles (@jmileskstp) April 21, 2016
No cause of death was determined on Thursday. However, the musician's private jet was forced to make an emergency landing last Friday, as Prince needed to be hospitalized after a
weeks-long bout with the flu
, his rep confirmed to PEOPLE at the time.
The first flowers are being placed at Paisley Park #RIPPrince #Bennington @BenningtonShow pic.twitter.com/ZcaEOZUWxf

— Mel Casino (@MelCasino) April 21, 2016
Some fans who gathered outside Paisley Park remembered the surprise concerts the performer would put on at the estate, and his loyalty to his Midwestern roots.
"Prince meant so much to all of us here in Minnesota. Being able to come here and to be together and hear the music of this very, very, very special artist is this gift that we all had," Griffin Woodworth, 43, told PEOPLE. "Anytime Prince announced a surprise concert, back in the day, you'd get a surprise call and they'd say 'Something's happening at Paisley Park,' but they'd never tell you what. We were all in his house and he was hosting us and sharing his music with us and that was so special."
The iconic artist's music didn't just resonate with a certain age group. Fans of all ages lined up to leave flowers and mourn together, proving that his music – with hits like "Purple Rain" and "Little Red Corvette" – transcended generations.
"I was here this winter and last. He would have little shows that were $25. You could just go and see Prince for $25 . It was crazy," 19-year-old Audie Lind told PEOPLE. "He wanted to open up to people. Paisley Park is small and personal. He would look at you when he performed. He would look at me and wink at me. He wanted people to hear him."
Although Prince hadn't been feeling well, he was able to perform one last time before his death. Exactly one week ago, the singer
performed at the Fox Theatre in Atlanta
as part of his Piano & a Microphone tour, where he gave his final, emotional performance of "Purple Rain."
"He left everything on the stage, like he always did. After one song, he got up and left the stage because he was overcome by emotion," audience member Celeste Headlee told PEOPLE.
Headlee and grieving fans in Minnesota join a long list of mourners, including
Oprah Winfrey
,
Halle Berry
, Piers Morgan, Demi Lovato and even President Barack Obama, who released a
heartfelt statement
honoring Prince as a "creative icon."