Together, Nancy Reagan and her husband, 'Ronnie', wrote a White House love story worthy of Old Hollywood. Subscribe now for an inside look at their extraordinary journey and 52-year marriage, only in PEOPLE!
Past and present first ladies will be on hand when
Nancy Reagan
is laid to rest in a funeral service on Friday.
Michelle Obama
,
Laura Bush
,
Hillary Clinton
and
Rosalynn Carter
will all reunite to pay their respects to Nancy after she
died
of congestive heart failure at 94 on Sunday.
Barbara Bush
, 90, is the only living first lady who will not be in attendance.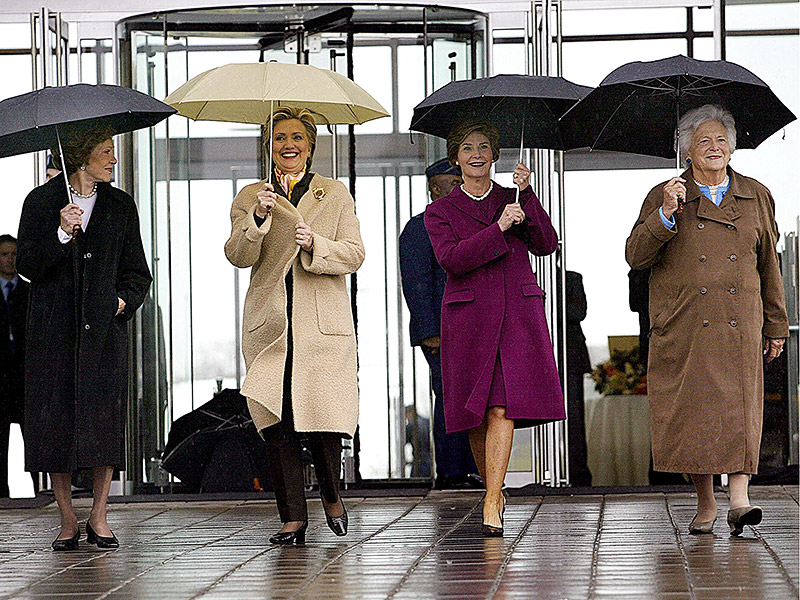 Instead, her son
George W. Bush
and daughter-in-law Laura will fill in for her and her husband, former President
George H.W. Bush
. A spokesman for Barbara, using family nicknames – "41" for George H.W. Bush and "43" for his son, the 43rd president – tells PEOPLE: "The 43s are going to represent the family."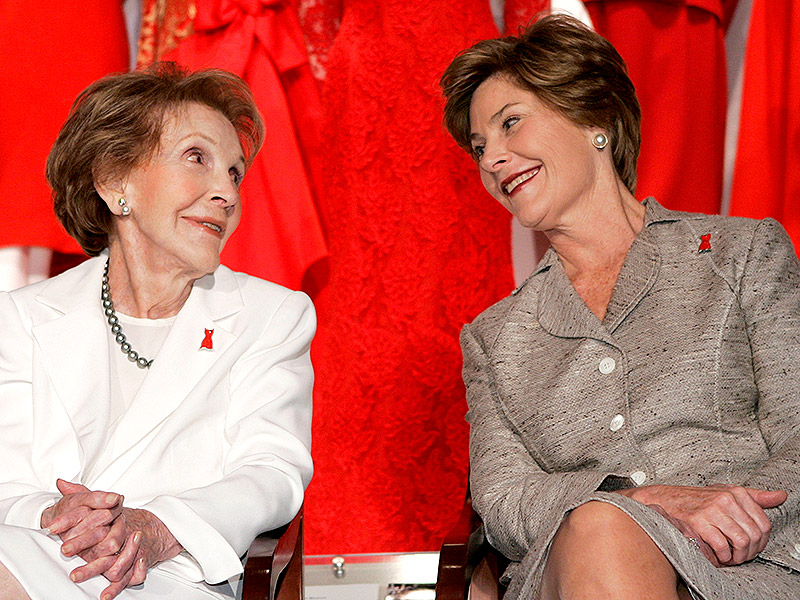 Brendan Smialowski / Getty
Nancy will be buried at the Ronald Reagan Presidential Library in Simi Valley, California, next to her beloved husband, former President
Ronald Reagan
, who died on June 5, 2004, the former first lady's spokesperson said in a statement obtained by PEOPLE.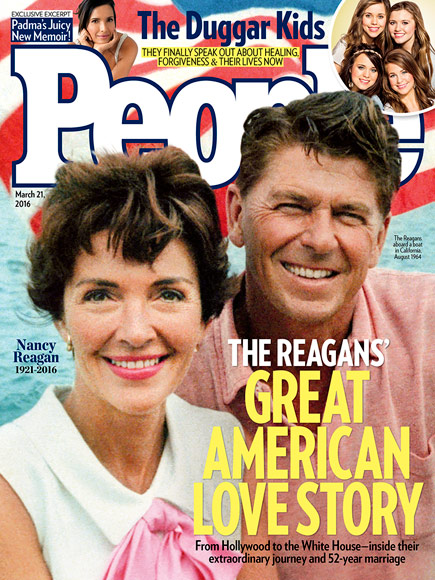 For more on Nancy and Ronald Reagan's great American love story, pick up a copy of this week's PEOPLE magazine, on newsstands Friday
Nancy enjoyed a special relationship with the other members of the "first ladies club."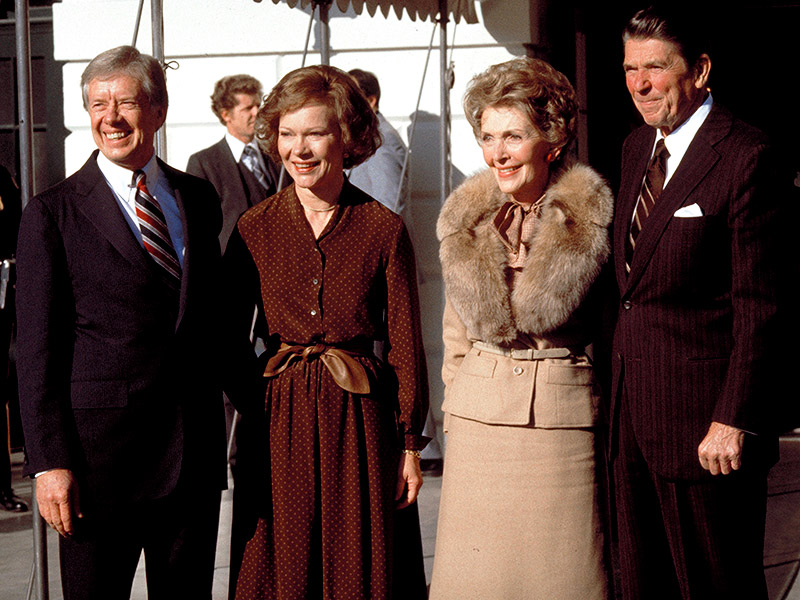 Diana Walker / Time Life Pictures / Getty
On May 11, 1994, she joined five other presidents' wives – including then-current FLOTUS Hillary – at the U.S. Botanic Garden in Washington, D.C. Gathered for the opening of the First Ladies' garden, Barbara, Hillary (wife of 42nd president Bill Clinton), Lady Bird Johnson (wife of 36th president Lyndon B. Johnson), Betty Ford (wife of 38th president Gerald Ford) and Rosalynn (wife of 39th president
Jimmy Carter
, who will not attend Nancy's funeral) were photographed sitting together by Barbara Kinney.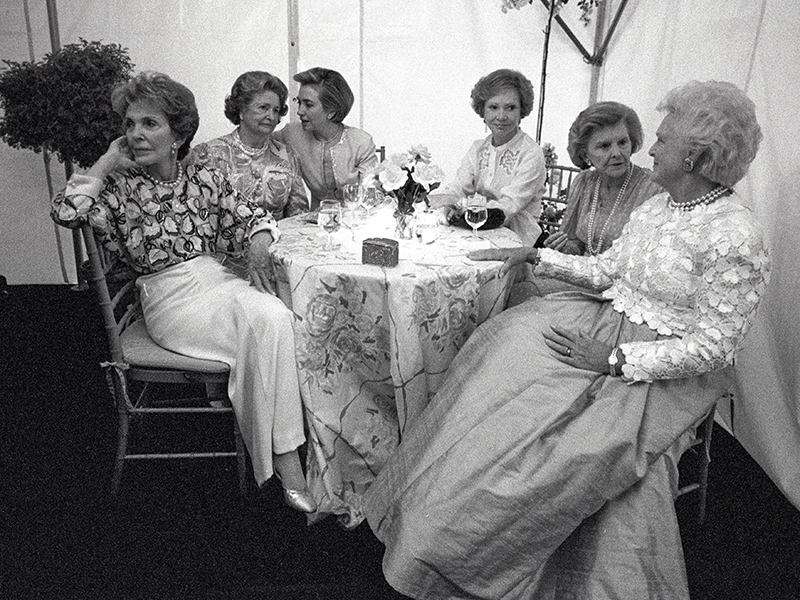 Barbara Kinney / The William J. Clinton Presidential Library
The photographer said she felt the "photo depicted how each first lady was viewed by the public."
"I thought it was an interesting moment as the Republicans were chatting (Bush and Ford), two Democrats were in conversation (Clinton and Lady Bird) while Carter was quietly sitting by herself and Reagan was completely detached from the conversation," Kinney told PEOPLE of the image. "In reality, she was watching the video monitor in the corner which was televising the program happening out on stage."
She adds, "Personally, I feel Nancy was distracted and aloof because President Reagan's battle with Alzheimer's had not yet been announced, and I sort of think she had other things on her mind."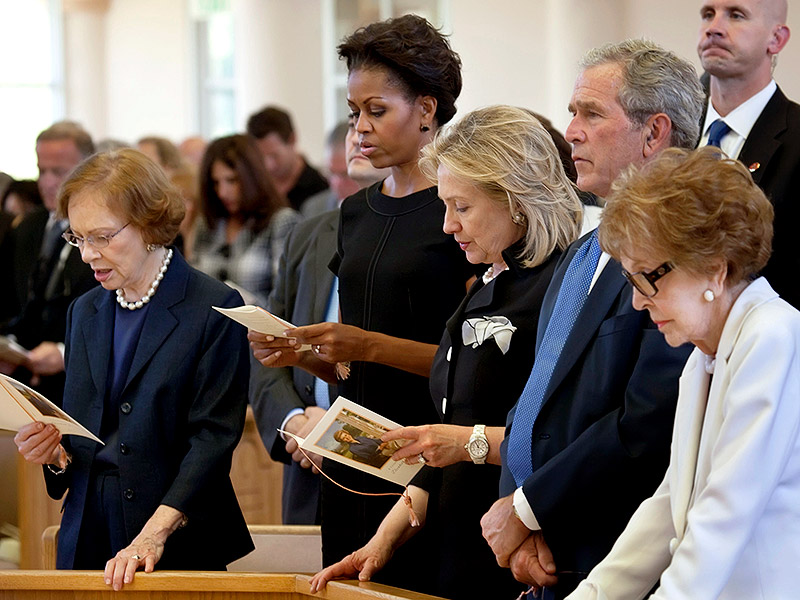 David Hume Kennerly / Gerald R. Ford Library and Museum via Getty
Philip DuFour, former social secretary to Vice President
Al Gore
and his ex-wife, Tipper, witnessed the historic gathering of the six first ladies.
"It was clear these women were part of a very small sorority of sorts, and while they all had, or were occupying the same position, they each were their own person and had brought those traits to that role," he tells PEOPLE. "And they seemed to have had real respect for each other."