"She was the one we went to when we were down, to help us feel better and to lift us up. She just kind of lit the place on fire," says Frank DiMauro, the CFO and COO of
SNJ Today
.
He hired former Miss New Jersey Cara McCollum as their lead anchor last July, and now, just seven months later, DiMauro and other friends and family remember the 24-year-old McCollum, who
passed away
Monday morning from injuries sustained
in a car accident
Feb. 15.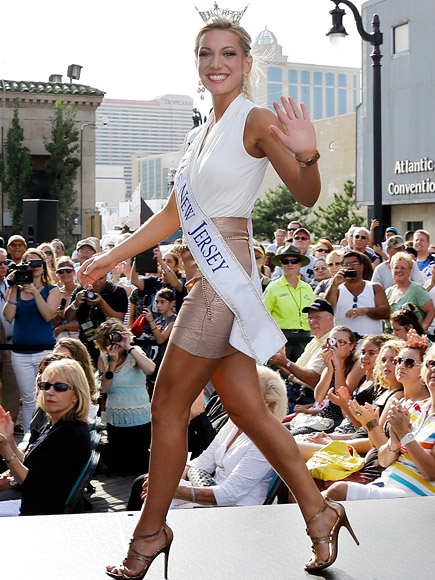 DiMauro tells PEOPLE that McCollum, fresh out of Princeton University, was the missing piece in the puzzle as he built up a news team for the
SNJ Today
, which put out its first broadcast in June.
"I met with her, and when she came in she just lit the room up, it was really incredible," DiMauro says. "Her energy, her charisma, her passion. And I was really impressed."
The Arkansas native was a perfect fit for DiMauro and their CEO, Ken Pustizzi, and they quickly made her an offer, as she headed to her parents home after graduation.
"I remember I called her on a Sunday, she was with her parents in Arkansas, and of course you know you start off with, 'How was your weekend? How's your family? What did you do?' " DiMauro recalls. "And she said she had gone fishing with her father that day. And that's something that I can recall doing with my own dad when I was a kid, and I said, 'Did you do the whole worm-on-a-hook thing Cara?' And she said, 'Oh yeah,' and I said I just wouldn't think that with someone who was Miss New Jersey, who was a contestant in Miss America, and she said 'Aw nah, I'm from Arkansas, we always grew up doing that kind of stuff out here.' "
"To me, that totally embodied everything that Cara was. Because if you see her on the exterior in the media, you would think she's this afraid-to-get-her-hands-dirty kind of person, but the reality was she was the complete opposite of that, she would roll her sleeves up. And then when we hired her, that's exactly what she became. She would be fearless, she would just grab a camera and go out into these areas that I was scared to death that she would go to, and she'd go and get footage and come back and edit it and put it on the news. She was just fearless."
"In my heart at the time I believed this was the perfect opportunity for her, I still do. Who would've thought that she would've had a car accident and this would've happened. I wrestle with it."
In remembrance, the
SNJ Today
family
put together a tribute to McCollum
that they ran uninterrupted Monday night in place of the news.
Her longtime boyfriend, Keith Jones, a news anchor at NBC 10 in Philadelphia, thanked everyone for their support during this difficult time in a Facebook post.
And her fellow
Miss America
and
Miss New Jersey
contestants added their own memories of the former contestant, who worked for improved literacy in New Jersey with her Birthday Book Project, which gave underprivileged kids a book on their birthday.
New Jersey governor Chris Christie tweeted his condolences as well, along with her alma mater.
Very sad to learn of the passing of Miss NJ 2013 Cara McCollum. Thoughts & prayers to her family, friends & the @MissAmericaOrg community.

— Governor Christie (@GovChristie) February 22, 2016
RIP, Cara McCollum '15, a former Miss New Jersey who died today a week after an automobile accident. https://t.co/Q14nTXoPm3

— Princeton University (@Princeton) February 22, 2016
DiMauro says that saying goodbye to McCollum will be tough for the entire
SNJ Today
staff and the community.
"My office is situated in such a way that you kind of look down on the door that everyone comes in the building everyday, and I just got so accustomed to see her come in each day, and leave at the end of the day, and I don't know, there's just a part of me that can't get over it, I'm waiting for her to walk in through the door," he says. "And it's just not going to happen."
"We loved her so much. There are no words to describe how much we're going to miss her."