Rob Kardashian
and Blac Chyna are
not only back on
, but they have famous fans.
At the premiere of
The Perfect Match
,
French Montana
was not only celebrating his debut role as an actor but the happiness of his
good friend Kardashian
.
"I love the energy that Rob is in," Montana, 31, said. "As long as somebody is happy doing what they're doing and working out, having a lot of energy, I love that. It's the best years of his life, why would you stop that?"
No need to stop indeed. Montana takes a realistic approach when it comes to relationships, particularly in the entertainment business.  So long as there is acceptance, he believes that a couple can work through just about anything. Regarding the on-again-off-again nature of Kardashian's relationship, Montana was not under any illusions that sometimes it get's complicated.
"Ain't that every relationship in Hollywood?" He said about Kardashian, 28, and Chyna, 27. "I feel like there's no perfect match out there. I feel like guys and girls go into relationships with a perfect match in their mind. They don't get to know the person. So I think the perfect match is when you get with somebody and accept them for who they are and mold them to be someone you love."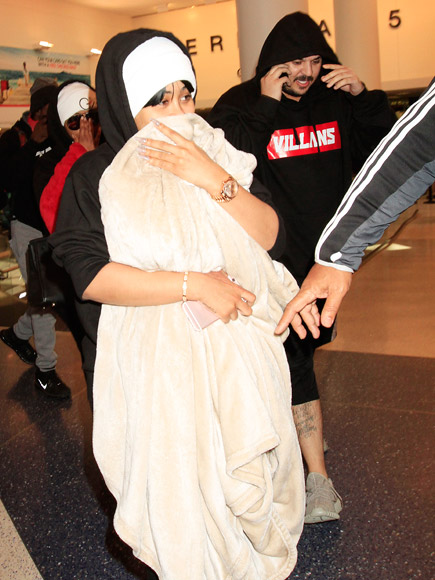 Sharky / Splash News Online
The couple was spotted arriving at LAX Tuesday, just Days after Kardashian
denied reports
that they had broken up. Montana, who once dated Kardashian's sister
Khloé
, is thrilled that his friend is in a great space.
"That's my little brother," the rapper said.