"If anyone earned the title of the fifth Beatle, it was George,"
Sir Paul McCartney wrote Wednesday
after
the death of legendary producer George Martin
.
That's no small tribute, but Martin earned it. Aside from signing the Beatles when no one else would – a laurel plenty of people would have been happy to rest on – he worked closely with the group in the studio, where he and Abbey Road engineer Geoff Emerick embarked on a series of musical innovations that made the Beatles' discography as groundbreaking as it was catchy.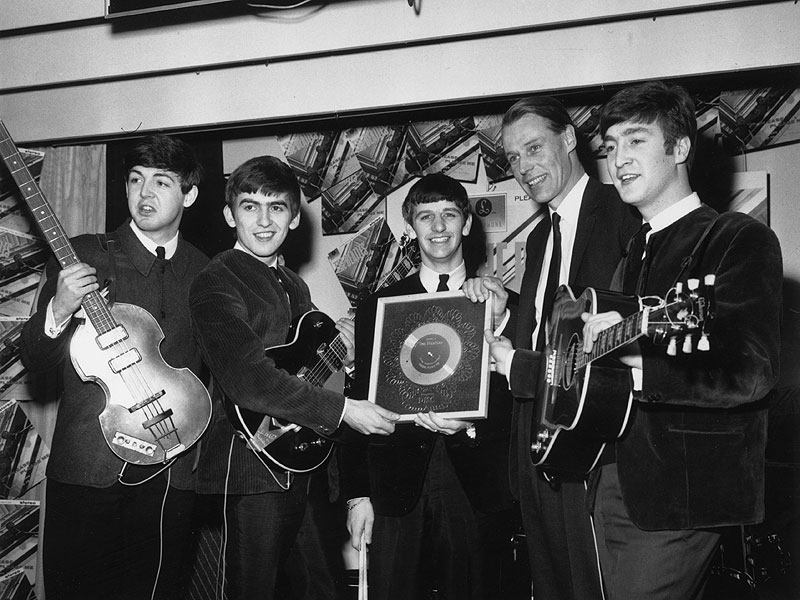 Chris Ware / Keystone / Getty
Below, some of Martin's best moments with the group.
The string arrangement on McCartney's "Yesterday" was Martin's idea. "We can't put Ringo on it, it's too heavy," he said, before
suggesting a string quartet
– against McCartney's wishes, who feared the song "might end up sounding like a cheesy Mantovani recording,"
according to the BBC
.
Martin's distinctive string arrangement for "Eleanor Rigby" was inspired by film composer Bernard Hermann, though whether he was specifically moved to create the gritty, staccato accompaniment by Hermann's work on Francois Truffaut's
Fahrenheit 451
or Alfred Hitchcock's
Psycho
remains a point of contention
.
"In My Life"'s distinctive harpsichord-sounding solo was created wholly by Martin. "There's a bit where John couldn't decide what to do in the middle and, while they were having their tea-break, I put down a baroque piano solo which John didn't hear until he came back,"
Martin recalled
. "What I wanted was too intricate for me to do live, so I did it with a half-speed piano, then sped it up," a perfect example of the kind of technical innovations Martin was adding to the group's songwriting.
Martin worked with Paul McCartney
to create "A Day in the Life"'s powerful orchestral swells and is one of the five(!) people whose hands (spread over three pianos and a harmonium) create the powerful ending chord to the song.
One of Martin's most daunting tasks
was stringing together two disparate vocal takes John Lennon recorded for "Strawberry Fields Together," complicated by the fact the two takes were in different keys and tempos. Again working closely with Emerick, Martin manipulated the tape speeds of the two takes to have them meet in an adjoining key, mixing them together to create the finished take of the song you hear today.
Martin played
the eerie, sinister Wurlitzer organ line on the song, and then later created the otherworldly middle-eight sections by cutting up old tapes of Sousa marches, scattering them in the air, and then randomly re-assembling them (again, with Emerick) and pasting them together.
Martin's arrangement for "All You Need Is Love," which interpolated bits of "La Marseillaise," "Greensleeves," Bach and "In the Mood" actually created some trouble for label EMI. "Everyone thought 'In the Mood' was in the public domain, and it is – but the introduction isn't,"
he remembered
. "The introduction is an arrangement, and it was the introduction I took. That was a published work. EMI came to me and said, 'You put this in the arrangement, so now you've got to indemnify us against any action that might be taken.' "I said, 'You must be joking. I got 15 pounds for doing that arrangement, that's all.'"
Martin arranged the scores for the Beatles films
Yellow Submarine
and later…
...
Live and Let Die
, for which Paul McCartney recorded the famous title song.
He also worked on the arrangement
for McCartney's hit single with then-wife Linda, "Uncle Albert/Admiral Halsey," though he was uncredited on the initial release.