When a little boy named Jack arrived in Houston on July 20 – having made the journey all the way from his native China – he was ready for an adventure.
Jack, now 10, had flown in with 29 other orphans as part of the
Great Wall China Adoption program
, which arranges for American families to meet and host the orphans in the hopes of eventually finding them permanent homes. All will head back to China on August 23.
Despite being in a brand-new country and culture, Jack was not shy when he met his host family, Tom and Jill Johnson, and their four sons.
Carrying his suitcase (along with another child's, an example of his helpful nature), Jack walked up to Jill Johnson and held up two fingers. A caseworker explained, "He's telling you that he's in the second grade."
It was then off to dinner at China Buffet. The Johnsons watched in awe as Jack put away plate after plate of food – from sushi to noodles and everything in between.
"He ate
everything
," marveled Jared Johnson, 17.
Jack has since gotten acclimated to life at the Johnsons' home in Garland, Texas. Sitting on the couch with his feet propped up on Jill's lap, he'll occasionally stick his tongue out at Jared, just for fun. Or he'll get restless and decide to take a running leap onto the couch.
Jill says it was that playful nature that helped draw her and Tom in when they were looking for a child to host and possibly adopt.
"I went and looked at his picture, and I knew it: 'Thats our boy,' " says Jill, adding that they've been considering adoption for awhile. "He just grabbed my heart. And he looked like a stinker, kind of, and he is. So he'd probably fit in very well with us."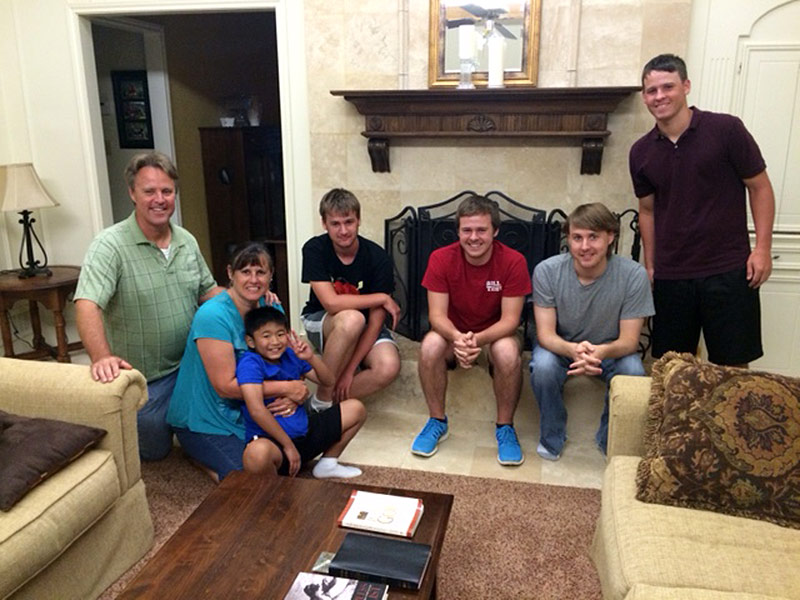 Shannon Phillips, the orphan hosting director for Great Wall China Adoption, says the organization brings over a group of kids from China twice a year. All of the children are dealing with some kind of special need, ranging from astigmatism to heart issues to a cleft palate.
"I've seen a child with mixed race, and that's their 'special need,' " Phillips says of the Chinese rules. "Anything that doesn't fall into a certain ideal picture can be termed 'special needs.' And for some, these can be repaired at a young age."
Some of the backgrounds of the orphans "will literally rip your heart out," she says. "There are two girls who are part of the program now; the parents took them to the market and said, 'Stay right there, we'll be right back,' and they never came back. They were 6 and 8 at the time. As a child, how do you comprehend that?"
With Great Wall China and other programs like it, these kids may possibly get a second chance at a loving home. But there are no guarantees; while Great Wall has about an 80 percent adoption rate, the kids are never told ahead of time that it's even a possibility.
"They tell them it's a vacation, or a summer getaway thing," Phillips says. "One of the biggest rules is that the families are not allowed to talk about adoption in front of the children. It's the 'A word.' "
This is done to protect the children's emotions, as some adoptions don't go through.
In other instances, a host family will consider adopting, bring the child for a visit and decide it's not a perfect fit.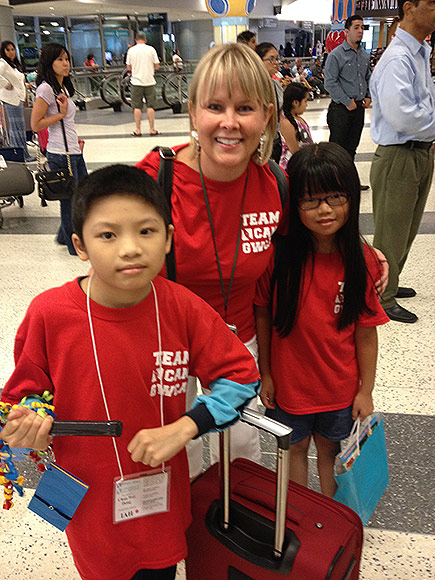 That was the case with San Antonio teacher and widowed mom Tina Madrid, who is hosting a 7-year-old boy, Wade.
Madrid, who adopted her 10-year-old daughter Maylee from the Great Wall program when she was a baby, considered expanding their family once again. But after spending time with the different dynamic, "we've decided it's not a good fit for us. But he's not left in the cold; he's a wonderful little boy and we've decided we're going to be his advocate."
Wade has a congenital heart defect, though there is evidence he received early surgery to help correct it. His past is a mystery; when he was 5, he was left outside the orphanage gates.
"When they found him, they said he was blue," Madrid says. "He had to be on oxygen until his surgery, but since his surgery he's doing better."
When Wade first arrived at the Madrids' home, "he motioned that he was going to wash up and change," she says. "Then he motioned to me that he was going to put his clothes in the bathroom sink to wash them. Apparently that's what he does over there. And when he brushed his teeth, you could tell that was a new experience for him.
"We didn't decide against him because there's anything wrong with him," she adds. "He's actually a great little guy. He's going to fit into another family just fabulously."
Over at the Johnsons' home, little Jack, whose special need is a chromosomal abnormality, seems to be fitting in fine.
Even though he can't speak much English, 'he says 'no' a lot when there's something he doesn't want to do," Jill says with a laugh.
Jack is also a very curious kid. He's fascinated by the can opener and the sink sprayer, for example.
"My pantry has never been more organized," Jill adds. "He's more organized than any of us! And he loves the electric pencil sharpener – but he also figured out that you can't sharpen a mechanical pencil."
Although the Johnsons know that possibly adding another son to the mix won't be without its issues – and they know little about Jack's past – "the good parts outweigh the cons, any day," Tom says.
And since Jack has arrived, they've learned that heartfelt communication doesn't even require speaking the same language.
"He'll give you a hug," Tom says, "and you'll feel something there."