A Hilton Head, South Carolina, charter boat captain caught a 2,500-pound great white shark this week.
The captain, Chip Michalove, tagged the shark with an acoustic tracking device and took a DNA sample before letting her go, according to a post
on Facebook
.
"We weren't exactly sure how big she was, initially, but after a 2 minute blistering run, she jumped completely out of the water, I wish I had a shot of that," Michalove wrote on Facebook.
"Oh man, it was unbelievable," Troy Bowman, a math teacher who had chartered the boat for a fishing expedition, told the
the Post and Courier
. "It was like you'd seen an elephant out there. So big."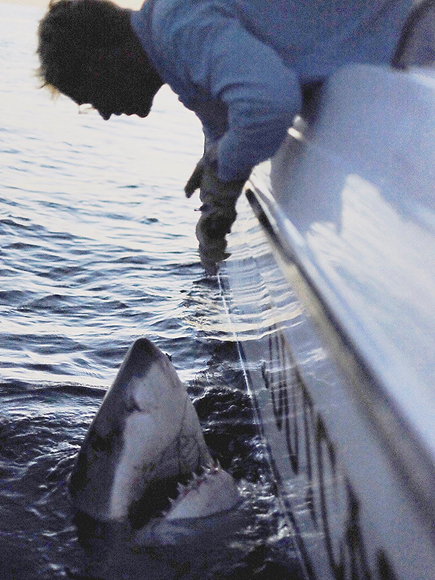 Capt. Chip Michalove / Outcast Sport Fishing
The shark was hooked in just 30 feet of water in cellphone range of Hilton Head beach, according to the newspaper. The men fought for over four hours to reel the shark closer to the boat, finally bringing her in at 7 p.m.
By that time, Michalove had only the light from an iPhone to guide him as he removed the hook from the shark.
"She was still pretty squirrelly. She still meant business, even at that time," Michalove said.
Michalove has gained local fame in the last year for his success with great whites, having hooked five sharks this winter and bringing in three – always for scientific purposes, according to
The State
.
"The more we study, the more we learn," he said on Facebook. "Nothing illegal was done, and the shark is now going to give us lots of data…so no hate mail."