Dr. Ben Warren found himself in the hot seat during a special, two-hour
Grey's Anatomy
on Thursday.
WARNING: spoilers from Thursday's episode of the ABC drama ahead.
After a "code pink" protocol locked down Grey Sloane Memorial Hospital while security searched for a missing child, Ben (
Jason George
) was left stuck in an elevator with a pregnant woman in need of immediate medical attention.
"Ben is put in a position where he has to make a hard call," George tells PEOPLE of having to choose between operating on the mother under less-than-ideal circumstances or risk doing nothing. "It's the worst possible scenario for any surgeon to find themselves in."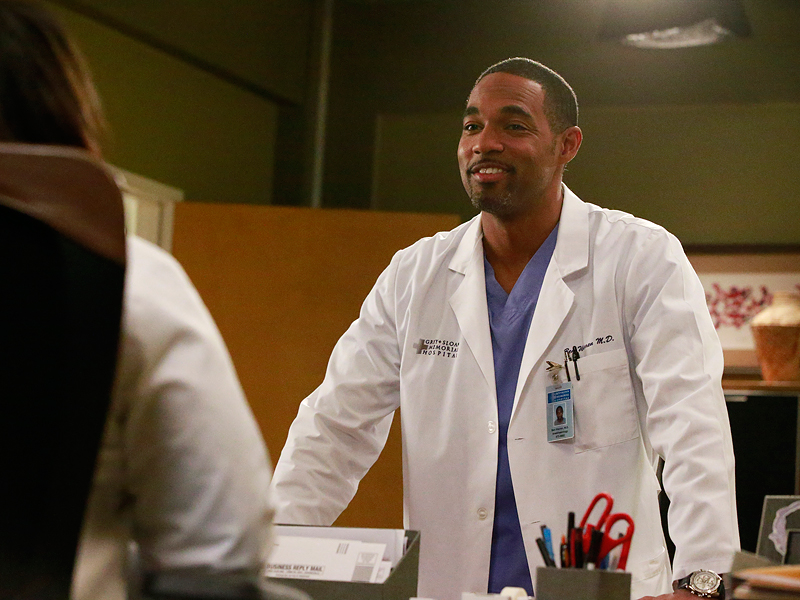 Ultimately, Ben decides to operate in the elevator. But his actions are called into question when it is revealed the code pink had been lifted and the elevator doors opened just before he made his first incision.
"Ben's sole goal is to save this woman and save her baby. He can't just sit there and watch her die. The doors may have opened and light may have bounced off his eyes, but that information never got to his brain. His brain was wholly occupied with saving that woman's life," George explains. "That's the surgeon you want by your side in that situation."
"If the woman and or baby had lived, some people would see Ben as a hero," he adds. "You can do the right thing and still have a bad outcome."
But now Ben is left with a six month suspension from his internship. This is a step up from getting fired, which is what his boss – and wife – Dr. Miranda Bailey (
Chandra Wilson
) had wanted to do.
RELATED VIDEO: Should 'McDreamy' Have a Miraculous Come Back on Grey's?
"A six-month suspension at this level of residency is basically saying, 'It's impossible for you to graduate.' Ben may as well quit now," says George. "The only reason he doesn't is that he refuses to lose and insists he will find a way to get through it. But it could sink his career as a surgical resident. That is a hard pill to swallow."
Even though fans may want Ben and Miranda to once again be the "strong pillar" among
Grey's
dramatic romantic entanglements, George says viewers should not expect things to work out between the two any time soon.
"Ben thinks, as his wife, Miranda should have had his back no matter what. But instead, she was going to ruin his career," he says. "They have to earn back trust from each other. And even if they can get there in their personal life, they have to figure out how to continue to work in the same place. That's hard and not something that gets fixed or tied up in a nice bow in one episode. They have a lot to figure out."
Grey's Anatomy
airs Thursdays (8 p.m. ET) on ABC.