Modeling since age 14,
Hannah Davis
takes a more relaxed stance on airbrushing.
"It's not a big deal; maybe they just wanted it a little bit more airbrushed-looking, and that's their style," Davis tells
Health
in
its April cover story
. "I've never had anyone alter my face. They've only sort of smoothed things out."
But that doesn't mean she's a fan of it.
"I think you look like a Barbie doll when they erase the wrinkles under your eyes," the former
Sports Illustrated cover star
says. "I don't mind if there's a crease when I smile. They're just creases. They're fine – leave 'em!"
Davis, from St. Thomas in the U.S. Virigin Islands, was basically
built for swimsuit modeling
. But even she hears from casting agents that she needs to lose weight, especially when she moved away from island life to model in New York.
"You get a little backlash once in a while – maybe they want you to slim down for something."
But as an established model now at age 25, Davis says she doesn't listen to those people anymore.
"Now it's like, 'Sorry, I don't care. If you don't want to work with me, that's OK with me,' " she says.
RELATED VIDEO: Sports Illustrated Swimsuit Model Hannah Davis Has a Stunning Confession
"It's not a cocky thing; I'm just more concerned with my quality of life. I don't want to go to birthday parties and not eat cake, and I think that has made me in better shape in some ways."
But she still puts in hardcore gym time to prep for photo shoots.
"I'm pretty much miserable! I warn everyone, 'Prepare for me to write you a random bitchy text because I'm hungry,' " Davis admits. "I do eat the whole time, but I work out a lot, usually two workouts a day for two or three days before. I'll go on a 10-mile bike ride or something, and then I'll come back and work with a trainer. I do pretty intense workouts in the gym."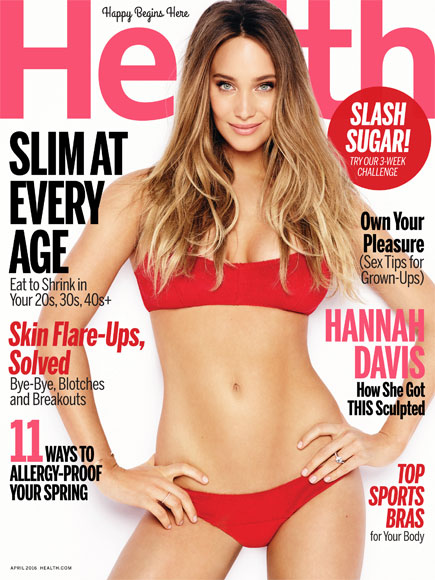 The biggest thing she's prepping for now though, is her
upcoming wedding
with former New York Yankee
Derek Jeter
, who
revealed their engagement
in November.
Davis says she's a "chill," low-key bride, who's just happy to be with the person she loves.
"I think finding someone you truly don't have to change for – not even a single part of you – makes you rise to the occasion," she says. "You want to find someone who is way better than you, or you think so. You're like, 'This person is gonna bring out the best in me, and I'm gonna be a way better person this year.' "