Thousands of students across the country this weekend will bring home backpacks filled not just with textbooks, but with plenty of food to carry them through to Monday.
Blessings in a Backpack
, a nonprofit based in Louisville, Kentucky, provides food-filled backpacks every Friday for children in hundreds of schools across 45 states. PEOPLE introduced readers to the organization in 2012 as part of the
PEOPLE First: Help Feed a Child
initiative.
Mayors Jim Schmitt of Green Bay, Wisconsin, and Greg Stanton of Phoenix, Arizona, sponsored the resolution made by the
United States Conference of Mayors
that declares Sept. 18 "Blessings in a Backpack Day."
In 55 cities, mayors stepped out into their communities Thursday and packed backpacks for hungry children.
"If a child doesn't come to school well-feed and with a nutritious meal, that affects every aspect of their life," Stanton tells PEOPLE.
Stanton, the father of two young children, says childhood hunger "is not an acceptable situation in the most prosperous nation on earth."
Backpacks were also filled yesterday in Arab, Alabama, a city with roughly 9,000 residents.
"A lot of students here come from [troubled] homes," Mayor Bob Joslin tells PEOPLE. "They don't have food on the weekend, so these backpacks are so important."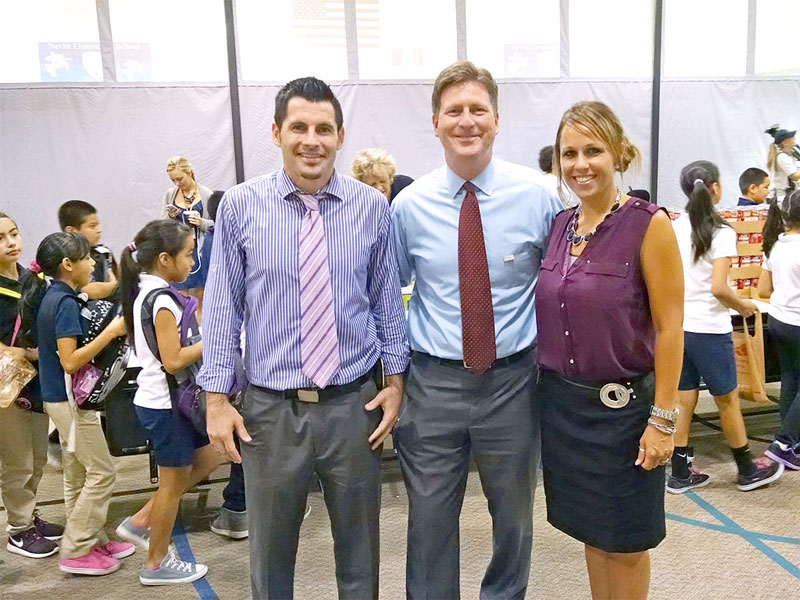 Every Friday during the school year, three churches in the area hand out 470 backpacks to children who need them. "Our community takes care of its own," Joslin says.
When the organization was first featured in PEOPLE in 2012, it comprised 329 schools helping 23,490 students. It now has 696 schools feeding 65,000 students.
Blessings board member Richard Gordon says the PEOPLE First initiative helped to raise more than $1.5 million in direct donations and local funds to start new community programs.
Michael Gouloff, an architect, started a program at four elementary schools in Fort Wayne, Indiana in 2006. All together, these programs send home 1,750 backpacks every Friday.
"It's so important we are feeding these kids," Gouloff says. "But the real message is that people in their community care about them."