Horrific allegations of sexual hazing in the locker room have one high school in New Jersey facing a season without football.
At Sayreville War Memorial High School, underclassmen players dreaded whenever the lights went out in the locker room. It was a sign of bad things to come, a source tells
Sports Illustrated
.
What exactly those bad things were, no one really knows, though a report published on
NJ.com
suggests that upperclassmen on the team would restrain freshman players and digitally penetrate them.
Sometimes that finger was then forced into their mouths, a parent of a player in the program told NJ Advance Media.
Investigators are currently looking into the claims. Football season, however, is over.
"There was enough evidence that there were incidents of harassment, of intimidation and bullying that took place on a pervasive level, on a wide-scale level and at a level at which the players knew, tolerated and generally accepted," Superintendent Richard Labbe told reporters on Monday.
Adds Labbe: "Based upon what has been substantiated to have occurred, we have canceled the remainder of the football season."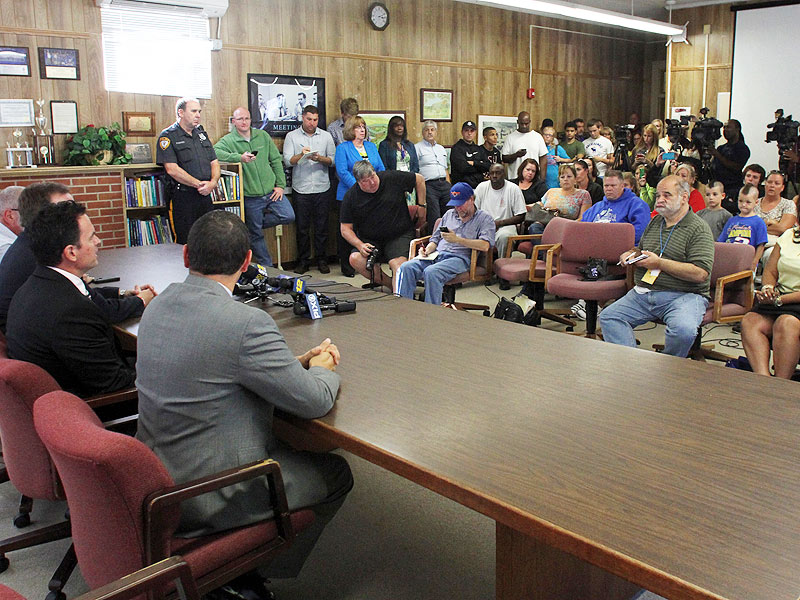 Mark R. Sullivan / Home News Tribune / AP
When reached for comment by
USA Today
on Wednesday night, Coach George Najjar hung up the phone after being read the details of the horrific abuse that allegedly took place under his watch.
"You asked me if you could read me something and I said, 'Yes.' Now you want me to comment. No comment," Najjar said.
For the students of Sayreville, the loss of
football
is a bitter blow.
"Football runs this school," William Simmons, a 17-year-old in the school band, told
Sports Illustrated
. "That's all everyone cares about."
For her part, freshman Yasmine Gomez told
Sports Illustrated
that she thinks the incident is not as serious as the media is making it out to be.
"Things have been blown out of proportion," she said. "We know the players, and hazing, to them, they didn't mean it in that way. It was more like being friends."