At least five people have died from weather-related causes since Houston began experiencing major flooding late Sunday night, according to the
Associated Press
.
Traffic cameras showed two of the victims driving around barricades in an unsuccessful effort to drive through a flooded underpass, Harris County Judge and chief administrator Ed Emmett said in an afternoon press conference, the AP reports.
Another person was found in a submerged vehicle near one of Houston's airports, while a truck driver was found dead in his truck on a flooded service road. A fifth victim, a 56-year-old man, was found dead in a car filled with water in Waller County, a local judge told
CNN
.
According to Harris County Emergency Management, crews were dispatched to perform around 1,200 high-water rescues as of Monday afternoon, CNN reports.
"There's flooding in every part of Houston," Houston Mayor Sylvester Turner said. "We will rescue you."
The National Weather Service has issued a
flash flood watch
through Wednesday morning.
"Avoid travel in and around flooded areas," the warning reads. "Most people who die in flash flooding will die in their vehicles. If in a flooded area stay where you are ... at home or at work. Never drive into a flooded roadway. Turn around don't drown!"
Emmett told CNN he estimated 240 billion gallons of rain had fallen on the Houston area as of Monday afternoon, and called this the most significant flood event since Tropical Storm Allison left 41 people dead and caused more than $5 billion in property damage in 2001.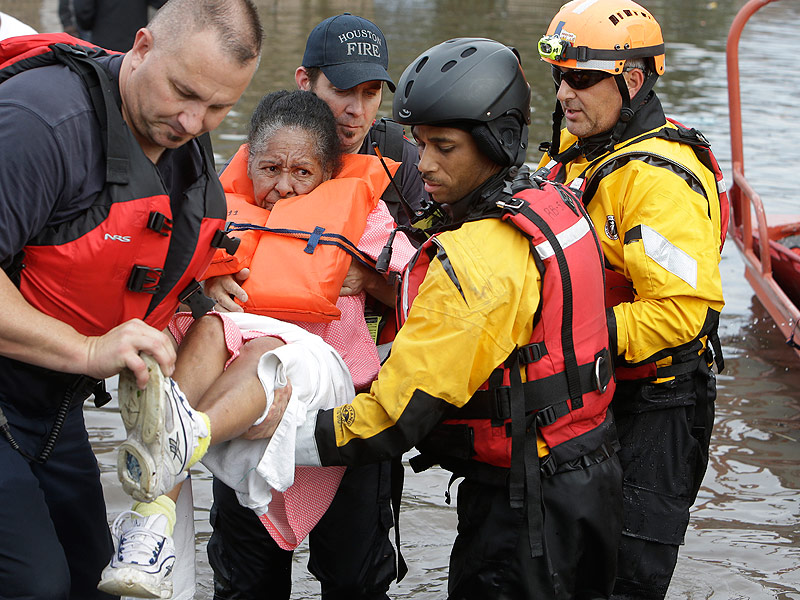 Melissa Phillip / Houston Chronicle via AP
Besides the fatalities and rescue efforts, the intense flooding has also caused major flight delays and property destruction.
Bush Intercontinental Airport experienced approximately 650 flight cancellations and over 1,100 delays,
NBC News
reports, and Emmett signed an emergency declaration for Harris County, saying that more than 1,000 homes had already been flooded.
According to NBC News, all city buildings and the Houston Independent School District were closed Monday, and the rest of the city was encouraged to stay home from work and school.
"This is a dangerous situation and I do not want our employees trying to get to work," Turner said. "Do not go out until conditions improve."
Turner told NBC News that 43,000 people in the Houston area had lost power and the situation could get worse as the rains were projected to continue into Tuesday and possibly Wednesday.
"This is an unprecedented amount of rain," he said. "It's been stubborn and it's not moving anytime fast."