Valerie Jackson texted her mother a desperate plea for help on Saturday right before her ex-boyfriend allegedly murdered her, her husband and her six children.
"My heart goes out to the mother who received the text from her daughter that she was in trouble," said Harris County District Attorney Devon Anderson,
KHOU
reports. "And the mother was many states away, but of course, did what any mother's going to do, which is call 911."
But it was too late. When police arrived at the house on the 2200 block of Falling Oaks, they saw the body of a juvenile through a window. They forced their way into the home, where they
arrested
David Conley after a tense standoff and an hour of negotiating.
A Grisly Crime Scene
Inside the home, authorities
found the bodies
of 40-year-old Valerie, her husband Dwayne Jackson, 50, and children Nathaniel, 13, Dwayne, 10, Honesty, 11, Caleb, 9, Trinity, 7, and Jonah, 6. They had all been shot in the head.
Conley, 48, had a history of criminal complaints against him dating back more than two decades, including various incidents of family violence, KHOU reports. It was that violence that had led the Jackson family to recently change the locks to their home.
However, police believe that Conley found an open window and crawled through it. He told investigators that he then restrained the eight family members with handcuffs, including one child who was his own, and shot them execution-style.
Police said that Conley and Valerie had recently rekindled their relationship, but things had gone south. "He killed an entire family – a husband, a wife and their children," said Alysia Harvey, the lead prosecutor in the case. "As a citizen of Harris County, as a mother, anytime you hear about anything that's this heinous, anytime you hear about the death of this many children in a single event, it is hard."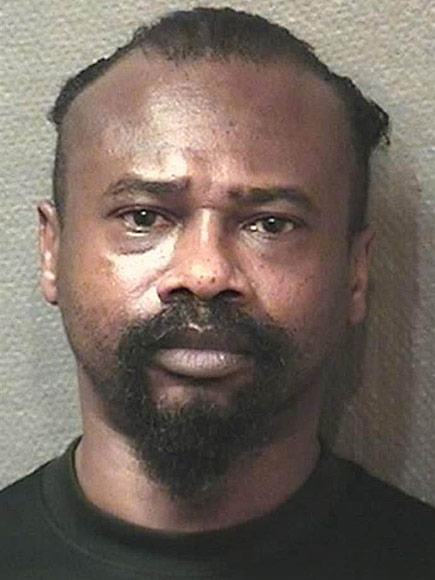 Harris County Police Dept.
A Troubled Family
Neighbors said the family had problems. Carlos Sanchez, 40, recalled one time when Nathaniel, who was Conley's son, tried to run away. Sanchez brought him back, but Conley "didn't say nothing. He just looked at me. The kid went inside," Sanchez told the
Associated Press
. "[Conley] was already in a different world."
And Vilma Flores, 61, told the AP that she was worried about the six children being left without supervision.
Child Protective Services confirmed that the agency had been involved with the family, but declined to offer details, the AP reports.
A friend of Nathaniel's was fighting back tears as he spoke to KHOU. "Nate, he was a cool and fun guy to hang around," Romello Broussard told the TV station. "He never made no wrong decision."
He added: "And that's the type he is. He's a good student. He made good grades. He never got in trouble with the principal. The principal don't even know his name."
Conley faces three capital murder charges in the eight deaths. If convicted, he could face the death penalty.
Want to keep up with the latest crime coverage? Click here to get breaking crime news, ongoing trial coverage and details of intriguing unsolved cases in the True Crime Newsletter.