When
Hugh Jackman
first discovered a mark on his nose in November 2013, he thought it was a spot of blood caused by his Wolverine claws.
"I was filming
X Men: Days Of Future Past
, he recalls. "And my makeup artist said 'You've got a little spot of blood, here on your nose' and I said 'Yeah, I know it was from a fight sequence and I knocked it somehow.' And trust me for 17 years I've played Wolverine and I've had more scraps and cuts ... I'm very clumsy with those claws."
A week later, the makeup artist mentioned it again. "And I said 'Yes, it must have dried up and in the shower I rubbed it off," says Jackman, 47. "Cut to a week later, and she said 'I think you should go get it checked.' "
Jackman's wife, Deborra-Lee Furness, also urged him to see a doctor. "She said 'Get it checked, get it checked, get it checked.' until I did," he recalls.
That's when he was told he had basal cell carcinoma, one of three types of skin cancer.
"It's always a bit of a shock just hearing the word 'cancer,'" says the actor, who opens up about his several skin cancer surgeries in the new issue of PEOPLE. "Being an Australian it's a very common thing. I never wore sunscreen growing up so I was a prime candidate for it."
"I was trying to keep calm about it but it wasn't until [his skin cancer surgeon] Dr. Michael Albom really explained to me that what I had, in a way, was the kind of skin cancer you want to have if you're going to have it," he continued. "Basal cell carcinoma is just something you have to deal with. It's cancerous. It will grow. You just have to get it out."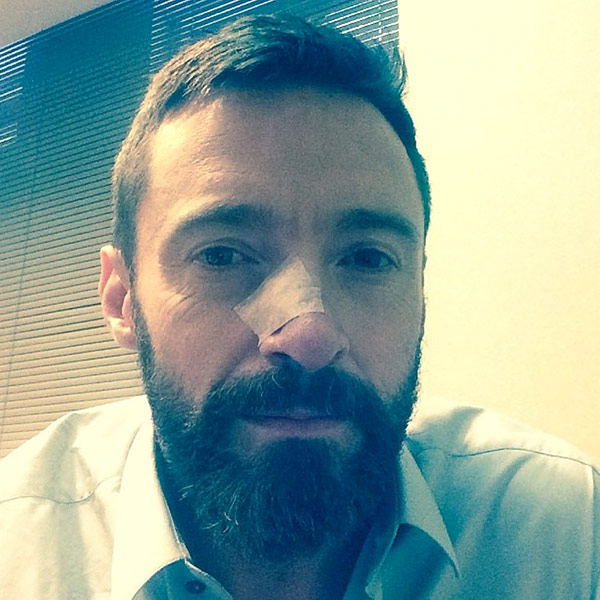 All together, Jackman has had four skin cancers removed in the last 18 months, three from his nose and one from his shoulder. He's since launched a line of sunscreen for kids,
Pure Sun Defense
, and wants to raise awareness about how sun exposure can lead to serious complications.
"I go every three months for checkups," he says. "It's the new normal for me. My doctor says I'll likely have more and if that's your cross to bear in life, you should be so lucky."
His doctor, Michael Albom, echoes his message. "Most people want to know what a skin cancer looks like," he says. "And I always say, 'If you get a growth, a lump or a bump or something that looks a little odd to you, get it checked. See a dermatologist. Get a biopsy when warranted."
"I give Hugh a lot of credit for speaking out," adds Dr. Albom. "Hugh is on top of his game because he has been through this enough times now that he is acting on it properly. He is doing great and we are thrilled."
For much more from Hugh Jackman, pick up this week's issue of PEOPLE, on newsstands Friday