The Indiana man whose wife and son
were murdered on Wednesday by the wife's uncle
watched the killer in his home in real time from his home security system streaming to his cell phone, PEOPLE has learned.
According to a timeline of events by the Boone County Sheriff's office obtained by PEOPLE, the man rushed back to his Zionsville, Indiana, home. He discovered the dead bodies of his wife, Katherine Giehll, 31, and the couple's son, Raymond Giehll IV, 4. Katherine had been shot three times and Raymond had been shot once, according to the Boone County Coroner's office.
Later that day, officers tracked Lucius Hamilton III, 61, to the Hilton Hotel and Suites in downtown Indianapolis. After knocking on the door, they heard two shots and found Hamilton dead of a self-inflicted gunshot wound to the head, according to the sheriff's office.
Law enforcement officials say the murders were the culmination of a long-simmering dispute Hamilton had with his niece over money. "The motive for this double homicide was strictly for financial gain, from a family trust," the sheriff's office said in a statement. "There are
millions of dollars
involved here," said Boone County Sheriff Mike Nielsen.
Raymond Giehll III on Thursday was mourning the loss of his family, "an unbelievable and tragic event in our lives," he said in a statement obtained by PEOPLE. "Katie and Raymond IV were my entire family and the hole their loss leaves is unexplainable."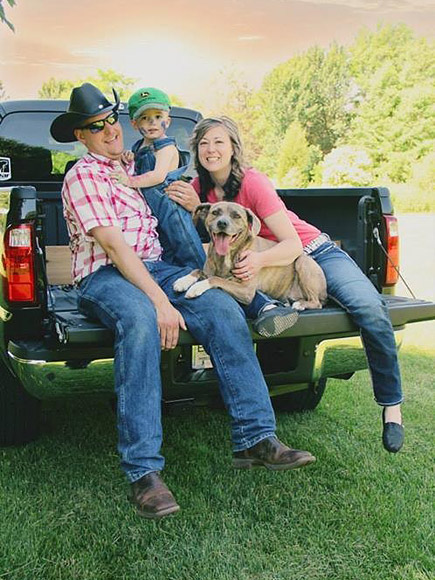 Boone County Sheriff's Office
•
Want to keep up with the latest crime coverage? Click here to get breaking crime news, ongoing trial coverage and details of intriguing unsolved cases in the True Crime Newsletter.
Giehll Spotted Hamilton Inside the Home
The first sign of trouble Wednesday morning was when Katherine sent her husband a text saying that her uncle was at their home, according to the sheriff's office. Raymond Giehll then tried calling Katherine but she didn't pick up.
He next used his cell phone to access the in-home cameras, which provide a live stream, and saw Hamilton inside. "He saw him after [the murders], but he did not witness the murders," Boone County Sheriff's Sgt. Chris Burcham tells PEOPLE, adding that there were no signs of forced entry to the house.
With the help of video surveillance footage obtained from outside the home, officers tracked Hamilton to Wabash College in Crawfordsville, Indiana, where he worked as a fundraising officer in the Alumni department, and then to the hotel, according to Burcham.
Hamilton Was to Get Entire Trust If Katherine And Raymond Died
Officers are continuing to unravel the details of the complex trust, Burcham said, but they were able to confirm that Russell Hamilton, who was Katherine Giehll's father and Hamilton's brother, set up a trust with the two being equal beneficiaries.
The trust specified that if Katherine died, her son Raymond would inherit her portion, Burcham said. "If Raymond died, then the whole trust went to Hamilton," Burcham said.
Detectives are still working to determine who was next in line to receive the money after Hamilton's death. Says Burcham, "There's a lot of 'what-ifs' going around."