Talk about a night to remember.
Glee
and
30 Rock
star
Cheyenne Jackson
is still on cloud nine after
tying the knot
with boyfriend Jason Landau on Saturday evening.
"There was so much love coming at us," Jackson, 39, tells PEOPLE. "We're both just love hungover."
Set atop the converted tennis court of a friend's lavish estate in Encino, California, the ceremony and reception scene melded nature with glam elements.
"I grew up in the woods with no running water and outhouses, so I wanted the woodsy look. Jason wanted glitz," says Jackson. To outfit the space, 1540 Productions brought in 20 trees and 100 chandeliers.
What they hadn't planned for were the bluebirds who chirped overhead as the grooms exchanged vows beneath a
chuppah
(Jewish wedding canopy).
"At first I thought they were bats!" says Jackson. "But it was just perfect."
Following an emotional ceremony – "I lost it as soon as Jason came around the corner with his mom. I cried throughout the whole thing," says Jackson– the two grooms took to the dance floor and put on a show.
After dancing to a cover of Fleetwood Mac's "Song Bird" by Ava Cassidy, "All of a sudden the music changed and Jason and I did a choreographed dance to Michael Jackson's 'PYT,' " gushes the newlywed. "It came out of nowhere, everybody went crazy."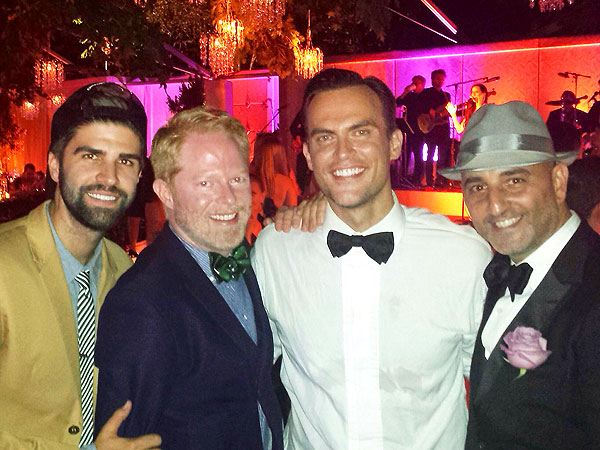 The dancing didn't stop there. Out of their 200 guests, including friends
Jesse Tyler Ferguson
and
Leah Remini
, "We were the last ones to leave the dance floor."
All in all, "It was over the top, but not like the gay wedding in
Sex and the City 2
," Jackson says with a laugh. "It was over the top but in the best way, because it was still us."
Now the two, who head off on their honeymoon to Bora Bora this week, can relax and revel in the memories.
"All Jason and I wanted to do was create an environment of love," says Jackson, "and that's what happened."
Which Celeb Made Cheyenne Jackson Act Like a Poodle?