Demolition
star
Jake Gyllenhaal
and
Boston Marathon bombings
survivor
Jeff Bauman
are quite the team.
The duo headed to legendary Fenway Park in Boston on Monday morning to throw out the first pitch of the Red Sox-Blue Jays game.
Clad in their very own Red Sox jerseys (Gyllenhaal wore number 34, like beloved Sox star David Ortiz), Gyllenhaal and Bauman hung out before the game, playing catch in front of the dugout and shaking hands and chatting with the players. Gyllenhaal, who is portraying Bauman in the film adaptation of
his memoir, Stronger
, held Bauman's baby daughter, Nora, as the guys hung out on the field and threw successfully to home plate.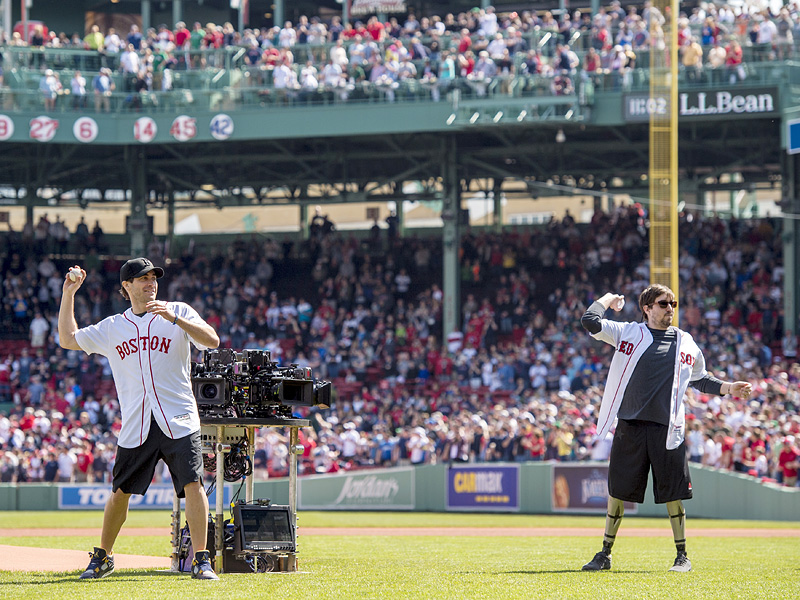 Billie Weiss / Boston Red Sox / Getty
On Sunday evening, Gyllenhaal and Bauman – who serve as honorary co-captains of Boston Medical Center's 2016
Boston Marathon Team
– headed to the Westin Boston Waterfront Hotel, where the duo joined the team (which has raised almost $638,000 for the hospital) as they fueled up on pasta before running Monday's 26.2 mile race.
Gyllenhaal has been
training intensely
for his portrayal of Bauman, who lost both his legs in the attacks at the 2013 Boston Marathon. Bauman went on to write his memoir, and, in 2014,
welcomed a daughter
with his wife, Erin Hurley.
Directed by David Gordon Green,
Stronger
is currently in production in Boston.